Cabinet considers Web culture through seminar
At an Internet culture workshop attended by more than 100 government leaders yesterday, Premier Mao Chi-kuo (毛治國) said that the administration has yet to connect effectively with Internet-based communities to bring its policies closer to the public.
The seminar aimed to teach officials about online cultures and trends.
Having served as Taipei Mayor Ko Wen-je's (柯文哲) Internet campaign advisers last year, workshop instructors Ben Jai (翟本喬), Tai Chi-chuan (戴季全) and Wang Ching-chiang (王景強) were lauded by Mao as "more than godlike figures" online.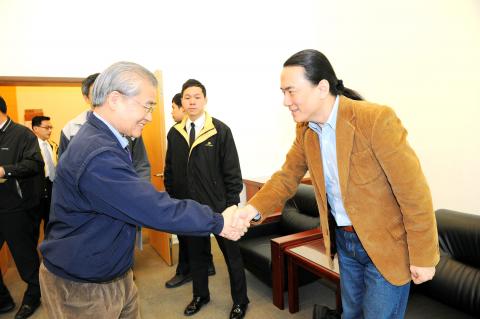 Premier Mao Chi-kuo, front left, shakes hands with Ben Jai, founder and chief executive of Hope Bay Technologies yesterday, on the sidelines of Jai's lecture to the Cabinet on Internet development trends, in Taipei yesterday.
Photo: CNA, provided by the Executive Yuan
To respond to growing online communities, Mao said the government must make its data publicly available and develop relationships with digital communities to benefit from netizens' experiences.
In response to an instructor's suggestion that the government hire additional younger officials who are familiar with cyberculture, Vice Premier Simon Chang (張善政) said that he would look into a way to relax regulations for the employment of key officials.
Deputy Minister of the Interior Jonathan Chen (陳純敬) said the workshop was very effective at offering insight into cybercultures and a new way to advance policymaking and execution.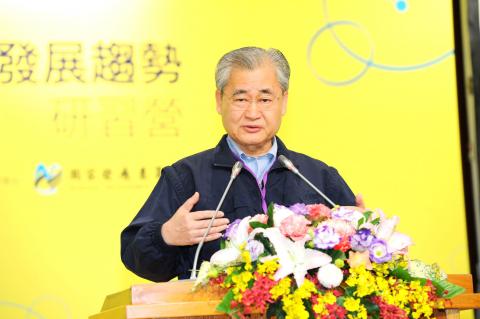 Premier Mao Chi-kuo addresses the Cabinet at a meeting on Internet development trends in Taipei yesterday.
Photo: CNA, provided by the Executive Yuan
However, netizens said that holding a workshop that accentuated the importance of Internet campaigns showed that the Chinese Nationalist Party (KMT) misinterpreted its landslide failure in the nine-in-one elections last year.
The government has failed in its people and policies, they said.
"What the Internet has brought us is the replacement of the government's unilateral indoctrination with a multidirectional, instantaneous communication among netizens" a netizen under the pseudonym "inlanyu" wrote.
One of the KMT's misconceptions is that youth support for the Democratic Progressive Party is due to naivety, said Chou Wei-hang (周偉航), a Fu Jen Catholic University assistant professor known online as Ninjia Text (人渣文本).
However, it is very difficult to win over younger generations due to their information literacy, and if the KMT would like to attract them, it must avoid mudslinging opponents with lies that netizens can easily disprove, he added.
Comments will be moderated. Keep comments relevant to the article. Remarks containing abusive and obscene language, personal attacks of any kind or promotion will be removed and the user banned. Final decision will be at the discretion of the Taipei Times.