Documentary to be released on Su Beng
Friends and supporters on Wednesday gathered in Taipei to celebrate the launch of documentary Su Beng (史明) — the Revolutionist (革命進行式), which is set to be released in theaters across the nation next month.
The film's protagonist, 97-year-old Su Beng, was flanked by two important backers of the project, director Chen Lihkuei (陳麗貴) and a former head of the now-defunct Government Information Office (GIO), Democratic Progressive Party Legislator Pasuya Yao (姚文智) who produced the film.
Often described as the spiritual father of the Taiwan independence movement, Su was a revolutionary leader who went to China to fight with Chinese Communist Party (CCP) troops against Japan in the 1940s.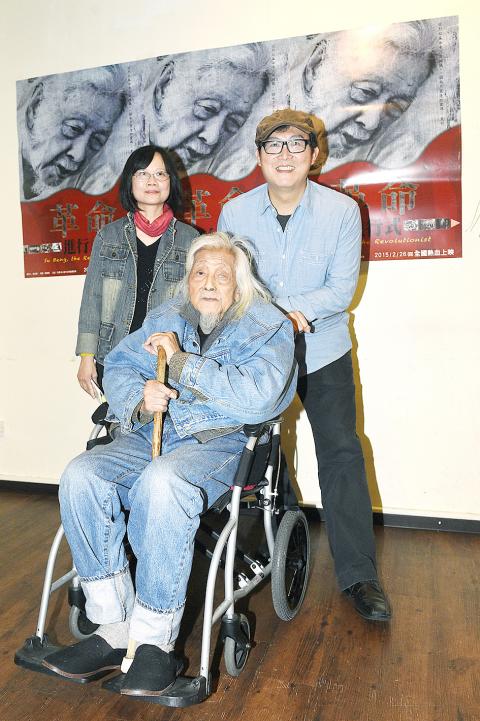 Su Beng, sitting, is joined by Democratic Progressive Party Legislator Pasuya Yao, right, and film director Lihkuei Chen at a press conference in Taipei, yesterday.
Photo: Chen Chih-chu, Taipei Times
On his return to Taiwan, he tried to rally Taiwanese against Chiang Kai-shek (蔣介石). Wanted by the Chiang regime, he fled to Japan in 1952 where he stayed after being granted political asylum.
While in Japan, Su ran a noodle shop in Tokyo and also established several Taiwanese revolutionary organizations, while completing his highly influential book, Taiwan's 400-Year History (台灣人四百年史).
Blacklisted by the Chinese Nationalist Party (KMT) regime for more than four decades, Su was only able to return to Taiwan in 1993 after martial law was abolished.
Highly respected in Taiwan nationalism circles, Su still leads the Association for Taiwan Independence (獨立台灣會).
Yao said that the film, which chronicles the struggles and revolutionary ideals of Su, announced it would premiere in theaters on Feb. 26, in time for 228 memorial day activities.
"When I was head of the GIO in 2005, I had this project in mind, to make movies and television programs about the real heroes of Taiwan, those who made great contributions to our country. Su Beng was at the top of the list," Yao said. "This film is a realization of that dream. We will follow it up with projects on other Taiwanese heroes. Our next project will focus on Professor Peng Ming-min (彭明敏)."
Chen said that Su's life was packed with fascinating adventures and incredible stories.
"However, the project has been a tremendous challenge for me as a filmmaker. Many of the documents, papers and photographs of his revolutionary odyssey, especially the secret underground activities and military campaigns, were lost or destroyed. So we had to use different means to bring out that period of his lifetime," Chen said.
Chen said the film also revealed for the first time the love of Su's life, a Japanese woman named Hiraga, whom he met in the 1950s during exile in Japan.
The trailer can be seen on YouTube and there a Facebook page has been set up: www.facebook.com/subengmovie.
Comments will be moderated. Keep comments relevant to the article. Remarks containing abusive and obscene language, personal attacks of any kind or promotion will be removed and the user banned. Final decision will be at the discretion of the Taipei Times.