Flu outbreak spreads to terrestrial birds: council
INSPECTIONS: The Council of Agriculture said it would send veterinarians to check conditions at farms and butcheries, and issue health certificates for food safety
Fears that the H5N8 and H5N2 avian influenza viruses that have hit waterfowl farms might spread intensified yesterday after the Council of Agriculture (COA) confirmed the first case of terrestrial bird deaths caused by the highly pathogenic H5 subtype.
Samples taken from a Greater Tainan-based broiler chicken farm, which has about 17,000 chickens, tested positive for the virus.
The Greater Tainan Government will finish exterminating all remaining chickens on the farm by this morning, in compliance with the "deployment in advance" rule stipulated by an emergency response team assembled by the council, which set the threshold for extermination at facilities with a fatality rate of 20 percent or above within 48 hours, Council Minister Chen Bao-ji (陳保基) told a press conference in Taipei.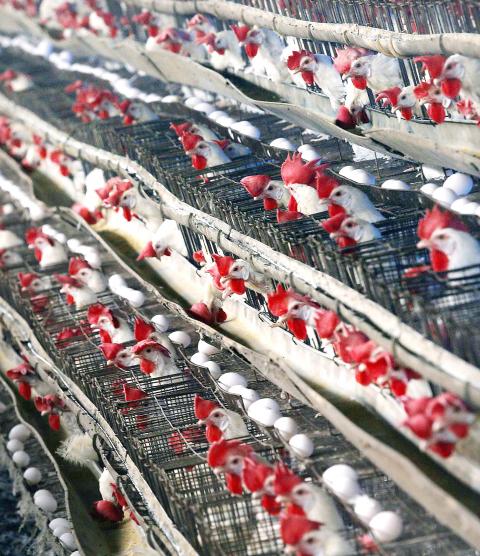 A chicken farm in Greater Kaohsiung operates normally yesterday, despite the threat of avian influenza viruses H5N2 and H5N8, while bird experts called on the public to remain calm.
Photo: CNA
He said the fatality rate at the Tainan site rose from about 12 percent on Tuesday to 24 percent yesterday, adding that the complete genome sequence of the virus in question would be confirmed today.
National Chung Hsing University professor of veterinary medicine Happy Hsieh (謝快樂) said that, judging from the speed at which the virus spread, it is likely that the H5 subtype found in Tainan will lead to the newfound H5N8 or H5N2 strain.
He warned of the possibility of widespread outbreaks among broiler chickens, saying that the viral strain that killed the poultry poses a much graver threat to terrestrial birds.
A worker herds a flock of geese at the Taipei City Wholesale Poultry Market yesterday, following the lifting of a ban on the movement of poultry, which had been imposed by the Council of Agriculture to curb the spread of avian flu.
Photo: Wang Yi-sung, Taipei Times
"Highly pathogenic avian flu strains will have a greater impact on terrestrial birds [than waterfowl], especially for those raised in facilities that adopt open farming with insulated evaporative cooling systems, because infected chickens trample on their virus-infused manure, turning it into fine particles that is transmitted in the air. As a result, the entire flock is infected and killed within a very short period of time," he said.
The council yesterday stepped up its disease control efforts, saying it would dispatch veterinarians to farms and slaughterhouses to monitor fowls' health conditions and issue health certificates before they can be killed and sold.
The certificates are valid for three days and butchering should be carried out no later than the deadline, Bureau of Animal and Plant Health Inspection and Quarantine Director-General Chang Su-san (張淑賢) said.
The disease control measure is scheduled to be implemented on Sunday and will last until the situation is under control, she said.
Citing the Statute for Prevention and Control of Infectious Animal Disease (動物傳染病防治條例), Chang said facilities that butcher poultry in private can be fined between NT$30,000 and NT$150,000 (US$940 and US$4,700) if confirmed cases of avian flu are found on site. They will also have to cease operations for 24 hours to undergo thorough disinfection.
Responding to reports of carcasses of geese that allegedly died from the bird flu being discarded in public areas, including one case in which hundreds of dead geese were scattered along the Yunlin Irrigation Canal, Chen condemned the perpetrators, calling their behavior "disgraceful," as it risks exacerbating the outbreaks.
Under the animal disease act, those who do not hand dead animals to rendering plants, thereby causing diseases to spread, can face a maximum penalty of NT$1 million, Chen said.
Meanwhile, the council lifted the ban on slaughtering waterfowl at noon yesterday.
Asked why the council has not extended the two-and-a-half-day stoppage as the avian flu continues to spread, Chang said: "Further restrictions could have a negative impact on the supply of poultry meat," adding that the decision was made after an assessment of current circumstances.
Asked about a potential shortage of goose meat during the Lunar New Year holiday next month, Animal Husbandry Department Deputy Director Chu Ching-cheng (朱慶誠) said that based on past records, demand for goose meat is expected to be low this and next month, with demand peaking during summer.
He said the bureau is in talks with poultry meat suppliers to ensure that wholesale prices remain stable and prevent profiteering and panic buying.
However, he also expressed concern over stalling geese sales, saying that wholesalers have been reluctant to purchase geese since the outbreaks began last week.
As of noon yesterday, about 36,000 birds at 23 establishments confirmed to have been hit by the new strains were exterminated since culling began on Sunday, the council said.
Comments will be moderated. Keep comments relevant to the article. Remarks containing abusive and obscene language, personal attacks of any kind or promotion will be removed and the user banned. Final decision will be at the discretion of the Taipei Times.