Taipei rally targets domestic violence
KO CHAFES: Taipei Mayor Ko Wen-je said he disapproved of the 'clownish execution'of a dance event that included playwright Eve Ensler and Asian activists
Playwright and activist Eve Ensler yesterday attended a "One Billion Rising" rally against domestic violence held by the Garden of Hope Foundation that included independent Taipei Mayor Ko Wen-je (柯文哲) as the guest of honor.
"In recent years, reported cases of rape and domestic violence in Taipei have continually risen," Ko said. "We want to make Taipei a society free from violence."
Ensler, best known for her play The Vagina Monologues, launched what is known as the V-day movement in 1998 to end violence against women and promote gender equality, adding the "One Billion Rising" campaign in 2012.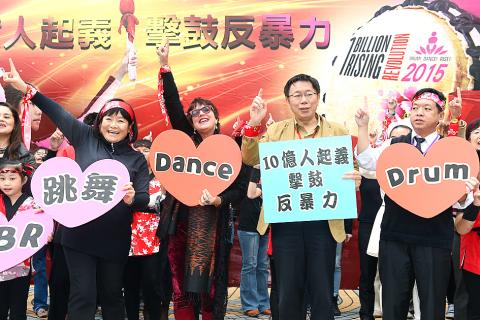 From left to right, Garden of Hope Foundation chief executive Chi Hui-jung, US activist Eve Ensler, Taipei Mayor Ko Wen-je and an unidentified man attend a "One Billion Rising" rally in Taipei yesterday targeting violence against women.
Photo: Chien Jung-fong, Taipei Times
The number in the campaign's title refers to the estimated number of people worldwide who have experienced domestic violence or sexual abuse.
With Garden of Hope Foundation chief executive Chi Hui-jung (紀惠容) and nearly a dozen activists from women's rights groups across Asia, Ko and other rally participants pointed toward the sky in a symbolic gesture of solidarity with survivors of abuse.
Chi said in a statement during the event that the campaign intends to launch a "revolution" to "eradicate all forms of patriarchy and inequality."
Ensler said she was "moved and impressed" by the accomplishments of local women's rights groups.
"The general atmosphere of cooperation between women's groups and the government is not something you see in every other nation," she said.
Abha Bhaiya, the national coordinator of the One Billion Rising campaign in India, said that cooperation between government agencies and non-governmental organizations is much more prominent here than in India, adding that she was impressed that the Taipei City Government includes an official consultant on gender issues.
However, she also said that there is still room for progress in tackling male culture and patriarchy.
"Patriarchy is still influential in [Taiwanese] society. Not enough importance is placed on women's issues by male politicians," she said.
At the event yesterday, Ko also joined with Ensler and other activists — including local representatives and participants from India, China, Japan, Mongolia, Philippines and other nations — in a long drum performance while chanting: "One billion rising; drum against violence."
Ko tried to leave the stage before a dance performance that followed the drumming, but was restrained by Chi.
He appeared uncomfortable during the dance performance, and left immediately after, refusing to answer questions from reporters, as had been promised earlier.
After being chased by reporters through half the length of Taipei City Hall, Ko agreed to accept questions before disappearing for several minutes into his office.
When Ko emerged he said he disliked the way the event had been "clownishly executed," adding that he had not been notified about the dance performance beforehand.
"When a lion opens its mouth to smile, all that other animals see are rows of sharp white teeth," he said when asked whether he had yelled at subordinates during the minutes before he emerged from the mayoral suite.
Comments will be moderated. Keep comments relevant to the article. Remarks containing abusive and obscene language, personal attacks of any kind or promotion will be removed and the user banned. Final decision will be at the discretion of the Taipei Times.