Council's approval for killing macaques sparks ire
OPEN SEASON: An announcement that farmers can kill problem macaques humanely prompted some to ask how and others to question the efficacy of the measure
Following the repeated petitions of farmers, the Council of Agriculture (COA) last week announced that protected Formosan macaques damaging crops may be destroyed by "humane methods."
However, the policy drew criticism, as some farmers said they did not understand what methods of extermination were included under the criteria.
There is no standard definition of "humane methods," former Taitung County Agriculture Bureau director Wu Ching-jung (吳慶榮) said.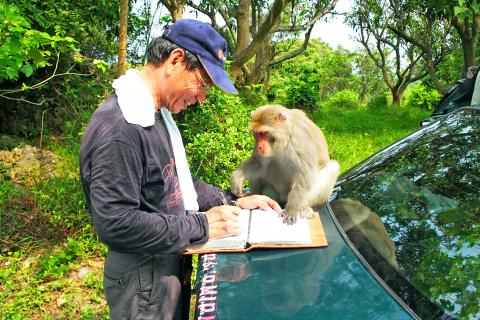 Lin Chin-fu, who has observed Formosan macaques for the past 21 years, makes notes while being watched by one of the monkeys in Greater Kaohsiung on Sunday.
Photo: Huang Hsu-lei, Taipei Times
"Farmers can only make their own interpretation by killing macaques as quickly and painlessly as possible," Wu said.
Taitung County's Yanping Township (延平) official Hu Wu-jen (胡武仁) defined the criteria as "killed by one clean shot."
However, COA Forestry Bureau division Director Kuan Li-hao (管立豪) said he doubted the efficiency of this method at suppressing activity of the rising population of macaques in the area's surrounding mountain farms.
Under the Wildlife Conservation Act (野生動物保育法), only farmers whose crops, poultry or livestock are damaged by protected wildlife are allowed to destroy animals after they inform local governments of their plans and receive approval.
"Farmers must have legal guns to shoot pests, but it is impossible for a farmer to own a legal gun under normal circumstances," Kuan said.
The Formosan macaque — also known as the Formosan rock monkey — a species indigenous to Taiwan, once faced extinction from overhunting before the wildlife protection act became law in 1989, at which time the macaque was listed as "precious and rare" and placed under strict protection, the COA said.
By 2009, the monkey population had surged to about 250,000, leading the council to downgrade the Formosan macaques status to "conserved."
However, the primate has become one of the most damaging pests to agriculture over the past few years, the COA was quoted by local media outlets as saying.
In an attempt to assuage farmers' anger, the council has proposed a three-point plan to clear monkeys from farmland which entails organizing a monkey hazard-prevention team, guiding farmers to build fences, and capturing, sterilizing and "removing" troublesome monkeys, the COA said.
The council notice issuing what has been described as a "death penalty" on monkeys which damage agriculture has drawn criticism from Animal Protection Association secretary-general Huang Ching-jung (黃清榮).
Huang said that killing the primates just because of crop losses would make the nation "an international joke."
Lin Chin-fu (林金福), nicknamed the "father of Formosan macaques" for his long-term contribution to the understanding and conservation of the species, is also against the COA's policy.
Criticizing the council's method as "confusing the result for the cause," Lin said that it is humans that are encroaching on the monkeys' habitat.
Lin suggested mapping out certain areas where oranges could be grown that monkeys would be allowed to consume.
That way, he said, monkeys would not trespass onto farmers' fields and damage crops.
Additional reporting by Huang Shu-li
Comments will be moderated. Keep comments relevant to the article. Remarks containing abusive and obscene language, personal attacks of any kind or promotion will be removed and the user banned. Final decision will be at the discretion of the Taipei Times.