Union opposes proposal to close 60 tertiary institutes
The Taiwan Higher Education Union yesterday said Minister of Education Wu Se-hwa's (吳思華) proposal to axe 60 tertiary institutes would leave a range of underlying problems in its wake, including large amounts of outstanding salary payments and students' right to education.
The group alleged that Kao Fong College of Digital Contents and Yong Ta Institute of Technology & Commerce, both of which were based in Pingtung County and went out of business this year, had delayed and deducted wages long before they were closed.
Both schools had been illegally delaying payments since 2010, with Kao Fong slashing its monthly salaries to NT$10,000 (US$317) since May last year — well below the minimum wage — while Yong Ta at one point did not pay its employees for seven straight months, union members said.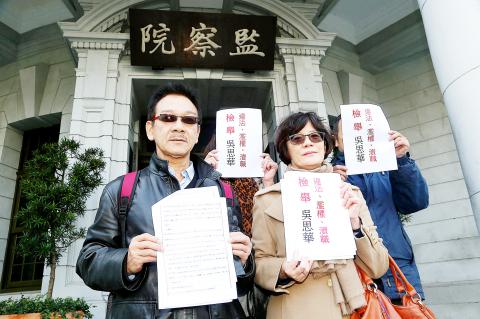 Members of the Twelve-Year Basic Education Parents Alliance hold up documents outside the Control Yuan yesterday calling for government officials, such as Minister of Education Wu Se-hwa, to be investigated for malfeasance.
Photo: CNA
Even though the Ministry of Education later intervened, they said the move barely had an effect on the violators, since Yong Ta only managed to clear NT$30 million of its NT$180 million debt, while Kao Fong completely ignored the ministry's requests to issue the NT$45 million in salary payments to its staff.
Union director Chen Shu-han (陳書涵) said the ministry's plan to dissolve the institutes is missing the point, as the problem of low enrollment rates can be resolved through adjusting the teacher-student ratio.
Wu has suggested shuttering schools in response to low enrollment rates resulting from the nation's low birth rate.
Quoting Wu, who promised implementation of job placement plans for teachers laid off as a result of the schools' disbandment, Chen said that job placement should precede the schools' closing, because it is almost impossible that faculty members and other staff would get what they deserve once a school is dissolved.
She also raised the issue of the disposition of assets, saying that a dissolved tertiary institute should return all remaining assets to the parties who made contributions or offered monetary support, such as the government, the school founder, students and individuals.
Citing Yong Ta as an example, she said the closed school has NT$1.5 billion in assets, and that she is concerned all the money would be taken by its board of directors.
Regulations need to be formulated to govern the disposition of school assets to prevent schools from closing deliberately, she said, and disbanded schools which want to be transformed into other types of businesses should first have their board of directors completely reshuffled, so that their assets are not pocketed by a select few.
Former Yong Ta teacher Lai Fu-lin (賴福林) said the school's disbandment has caused his students great inconvenience and imposed a hefty financial burden on them.
"Some of them are forced to travel great distances, from Pingtung County to Greater Kaohsiung, crossing the Gaoping River (高屏溪) along the way, just to attend school," Lai said. "The education ministry's arrangements have caused each student additional expenses of at least NT$50,000 every semester, since they have to pay rent or travel fees."
He said arrangements made by the ministry for the students were arbitrary and poorly executed.
"Some of my students found out they were disqualified to register for the licensing test for architecture because they were transferred to night school. It was not until after many meetings with the ministry that they were finally allowed an exception," Lai said.
Due to Yong Ta's disbandment, he said he now works as a temporary teacher at National Pingtung University of Science and Technology, with a monthly salary of about NT$8,000.
Comments will be moderated. Keep comments relevant to the article. Remarks containing abusive and obscene language, personal attacks of any kind or promotion will be removed and the user banned. Final decision will be at the discretion of the Taipei Times.