Student employees protest delays in being paid wages
PAY-DAY DELAYS: Student teaching assistants and workers at Shih Hsin University say they are sometimes not paid for months, and are often not paid overtime
A group of college students who work as teaching assistants and part-time employees at a Taipei university yesterday staged a demonstration outside the Ministry of Labor building in protest against tertiary institutes that fail to pay students' salaries on time, which they say has caused them great trouble as they struggle to cover their living expenses.
The protesters demanded the ministry penalize these schools according to Article 79 of the Labor Standards Act (勞動基準法).
The protesters alleged that their school, Shih Hsin University, has been delaying paying their wages by at least one month, and sometimes even up to two months, since the current semester began in September.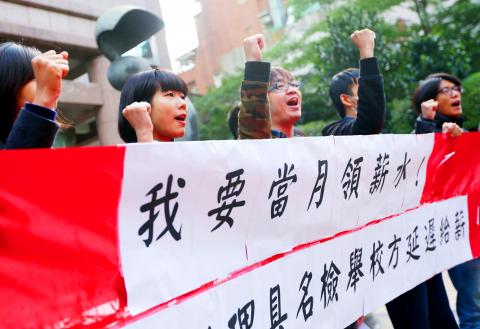 College students who work as teaching assistants and part-time employees at a Taipei university yesterday stage a demonstration outside the Ministry of Labor to protest against tertiary education institutes that fail to pay students' salaries on time.
Photo: CNA
The recurring delays have caused them serious inconvenience, as it is impossible for the students to hold additional part-time jobs off-campus, given that they need to find time to study.
The situation is especially dire for students from lower-income families, they said.
Shih Hsin University student Tseng Fu-chaun (曾福全) said the school on Aug. 1 provided students who work as teaching assistants with labor insurance, meaning that a formal contract has been struck between the faculty and students; therefore, the school should stop putting off paying its employees.
"To make matters worse, professors often make us assistants work overtime with no pay, or attend to tasks that we had never agreed to undertake," he said.
Another student, surnamed Chen (陳), said the students have repeatedly asked school administrators when they would be paid, but were never given any definite answers.
"Although our superiors at the faculties where we work had submitted our attendance records to the accounting and other offices who do the paperwork earlier in the month in the hope that we would be paid on time, that did not improve the situation at all," she said.
The students said their monthly salaries range from NT$5,000 to NT$7,000.
Taiwan Higher Education Union executive secretary Hu Ching-ya (胡清雅) called on the ministry to launch a thorough investigation of tertiary institutes that have a record of delaying paying students' salaries.
She also highlighted the problem that institutes sometimes hire students as part-time employees, but do not offer them labor insurance, adding that the union has been urging the ministry to investigate these schools since November last year, but has only received investigation results on one case.
Department of Labor Standards and Equal Employment division head Chiang Yan-ping (江衍平) initially denied the students entry to the ministry — where a phalanx of police officers formed a blockade with their riot shields before the event began — to file their grievances.
He later said he would make "mental notes" of the students' complaints, then attempted to write them down on a leaflet distributed by the students, igniting the fury of the protesters.
The students were finally allowed access to the ministry after about 30 minutes.
Comments will be moderated. Keep comments relevant to the article. Remarks containing abusive and obscene language, personal attacks of any kind or promotion will be removed and the user banned. Final decision will be at the discretion of the Taipei Times.