KMT election loss not a referendum on cross-strait policy: DPP's Joseph Wu
CAPITOL HILL TALK: The DPP official told reporters that the party values the 'status quo' in cross-strait relations. He also downplayed the 'China factor' in Saturday's polls
The nine-in-one elections should not be interpreted as a defeat for the cross-strait policies of the Chinese Nationalist Party (KMT), a Washington news conference was told on Tuesday.
"Cross-strait relations were not debated as part of this election," said Democratic Progressive Party (DPP) Secretary-General Joseph Wu (吳釗燮), who also serves as the party's representative to Washington.
In the US capital to brief officials and academics on the election results, Wu repeatedly said that the DPP wants to reduce mistrust with China and keep relations across the Taiwan Strait peaceful and stable.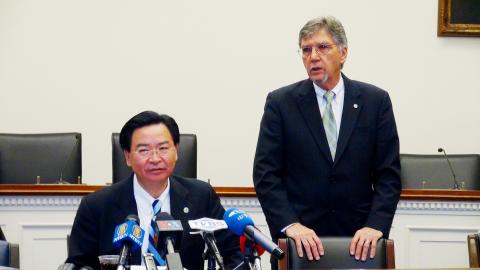 Democratic Progressive Party (DPP) Secretary-General Joseph Wu, left, and the party's Washington liaison, Michael Fonte, hold a news conference on Capitol Hill in Washington on Tuesday.
Photo: CNA
The KMT had suffered a "disastrous defeat" in the elections, but it was not a referendum on cross-strait policies, he said, adding that: "China should learn to work with whomever is elected in Taiwan."
He said the DPP's fundamental position on dealing with China had not changed and that the party still values the "status quo."
"Taiwan is not under China's control and any future change to the 'status quo' must be approved by the Taiwanese people through democratic means such as a referendum," he said.
While there is still some uncertainty within the administration of US President Barack Obama on the DPP's ability to maintain good relations with Beijing, Wu's frequent Washington visits over the past year have done much to restore confidence.
He acknowledged during the news conference — held in a congressional meeting room on Capitol Hill — that there were some in China warning that if the DPP regained power in the 2016 presidential elections, there would be conflict across the Strait.
"For peace and stability to be maintained, the responsibility rests on the shoulders of both Taiwan and of China," Wu said.
The two sides need to engage with each other to find the best way forward, he said.
"For China to say that Taiwan must accept this or that as a precondition to negotiations, I just don't think that is the way to go," he said.
"It is important for the two sides to go into negotiations and dialogues and communications and engagements without preconditions," he said.
He repeatedly said that Saturday's elections, in which the DPP scored major victories over the KMT, were local elections from which it was not possible to draw "too many" conclusions.
The KMT is still "very strong" at the grassroots level, Wu said, adding that he did not think the "China factor" played a decisive role.
However, the resulting internal struggle within the KMT as it tries to deal with its election losses could impact the government's ability to implement policies, Wu said.
The struggle could take a toll on Taiwan's domestic stability and "this is something we need to watch very carefully, not to have Taiwan damaged," he said.
The momentum is on the DPP's side going into the 2016 presidential elections, but the party needs to demonstrate its abilities to govern, he said.
"We should shoulder more of our defense responsibilities and not just rely on our best friend, the United States," he said.
Taiwan should raise its defense budget to 3 percent of GDP and strengthen its indigenous weapons production capabilities, he said.
The DPP supports Taiwan membership in the proposed Trans-Pacific Partnership (TPP) and also supports free-trade agreements (FTAs) with as many countries as possible, he said.
"We encourage and we support the TPP and FTAs," Wu said.
Also on the trade front, he said that Taiwan needed to engage in structural reform and streamline its bureaucracy and legal system to make them more open to international investors.
"Our position is very clear: China is not the only market for Taiwan," Wu said.
"China is very important, it is a country we need to trade with, but we should not depend solely on China — we should not have a lopsided relationship," he added.
Wu said the South China Sea has become a "powder keg" in East Asia and that Taiwan should think about it in a "more responsible" way.
All claims to the South China Sea should be based on international law and the resolution of disputes should also be based on international law, he said.
Comments will be moderated. Keep comments relevant to the article. Remarks containing abusive and obscene language, personal attacks of any kind or promotion will be removed and the user banned. Final decision will be at the discretion of the Taipei Times.