Puppeteer Huang Chun-ching dies at 88
'KING OF THE THEATERS': The recipient of several cultural awards contributed to the art form's zenith and came from a family of top glove puppetry performers
The "King of the Theaters," glove puppetry master Huang Chun-ching (黃俊卿), 88, died on Monday last week from multiple organ failure.
A memorial is scheduled for 1pm at the Wenshu Temple in Yunlin County's Douliou City (斗六) today.
Huang, the eldest son of Huang Hai-tai (黃海岱), the founder of the Wuzhou Puppetry Troupe, founded his own troupe in the post-1945 era and was part of the zenith of the trade, evenutally matching his father's renown and skill.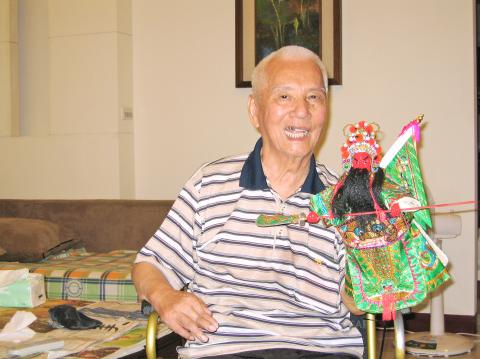 Master puppeteer Huang Chun-ching poses with a puppet in Yunlin County in an undated photo.
Photo courtesy of Huang Wen-lang
The popularity of his troupe — which sometimes performed for two or three months straight — earned him the title "King of the Theaters," as well as multiple National Cultural Heritage Awards.
Huang Chun-ching's performance career was halted in 1994, after a car accident and a stroke kept him from taking to the stage and led to his children taking over his shows.
Hospitalized in Douliou's Chengta Hospital three years ago, Huang Chun-ching was later diagnosed with blood cancer. On Monday last week, a secondary infection led to his death.
One of the performer's sons, Huang Wen-lang (黃文朗), said his grandfather, father, uncle Huang Chun-hsiung (黃俊雄) and himself might have set a record by winning National Cultural Heritage Awards across three generations.
Huang Wen-lang said he was certain that his father's influence in glove puppetry would generate fame for him in the future.
Despite Huang Chun-ching's multiple marriages — five marriages and a total of 11 children — the entire family continued to live together until his children started their own families, a feat that was widely commended by other puppeteers.
Comments will be moderated. Keep comments relevant to the article. Remarks containing abusive and obscene language, personal attacks of any kind or promotion will be removed and the user banned. Final decision will be at the discretion of the Taipei Times.