2014 ELECTIONS: Keelung residents fed up with campaign noise
As the campaigns for Saturday's elections enter their final days, many Keelung residents say that they are fed up with the seemingly endless loud noise blaring from campaign vehicles day in, day out, while the Keelung City Election Commission said it has been inundated with complaints about candidates using loudspeakers.
Several schools have requested that the commission tell candidates to lower the volume of their announcements, it said yesterday.
One sign that residents are getting fed-up was a banner spotted on Sunday hanging from the railings around the widows of one apartment bearing the words: "Keep the noise down, or I won't vote for you."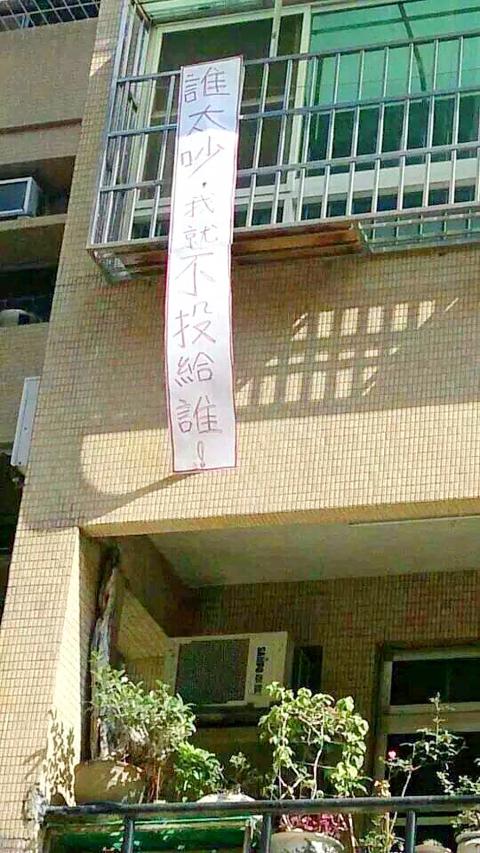 A banner hangs from the railing around an apartment's window in Keelung on Sunday. It reads: "Keep the noise down, or I won't vote for you."
Photo: Lin Hsin-han, Taipei Times
Keelung Bureau of Environmental Protection Deputy Director-General Wang Meng-hsiung (王夢熊) said the bureau has asked candidates to reduce the volume of their campaign activities.
A new set of regulations governing noise went into effect on July 16, under which campaign vehicles are banned from broadcasting between 10pm and 8am, he said.
Campaign vehicles are also prohibited from broadcasting within a 50m radius of schools, medical facilities and daycare centers, Wang said.
Those violating the noise restriction risk fines ranging from NT$3,000 to NT$30,000, Wang added.
However, bureau officials said it is very difficult to measure the decibels of campaign vehicles' broadcasts, as every time they rush to a site specified in a complaint, the vehicles have moved to another location.
It is even more difficult as the campaign enters its final days and the competition between candidates becomes more intense, Wang said.
Other measures adopted by candidates that have caused complaints include flags set up on the sidewalk, in the parks and at schools, as well as tucking flyers under windshield wipers, which become very hard to remove if they get wet during a rain.
Wang said the bureau had dispatched personnel to notify candidates who set up flags to remove them within three days, after which time penalties would be imposed, adding that all violators would be fined regardless of their political affiliation.
Comments will be moderated. Keep comments relevant to the article. Remarks containing abusive and obscene language, personal attacks of any kind or promotion will be removed and the user banned. Final decision will be at the discretion of the Taipei Times.