2014 ELECTIONS: Candidate drives into Kaohsiung city hall in protest
STUNT DRIVER? Lee Cheng-hsien said he could not get anyone to listen to his complaints, so he was forced to take drastic action. No one was injured
Independent Greater Kaohsiung city councilor candidate Lee Cheng-hsien (李政憲) yesterday morning drove a four-by-four vehicle through the front doors of Kaohsiung City Hall and poured gasoline on the floor of the lobby as he shouted: "Rise against tyranny."
Lee threatened to ignite the gasoline with what appeared to be an electronic lighter, but was quickly subdued by two police officers and a security guard.
Lee said his protest was aimed at Kaohsiung Deputy Mayor Lee Yung-te (李永得), whom he alleged had "persecuted" his daughter's company — which won a bid in November 2012 to build a badminton court in Fongshan District (鳳山) — resulting in the firm spending NT$5 million (US$160,750) to maintain the venue.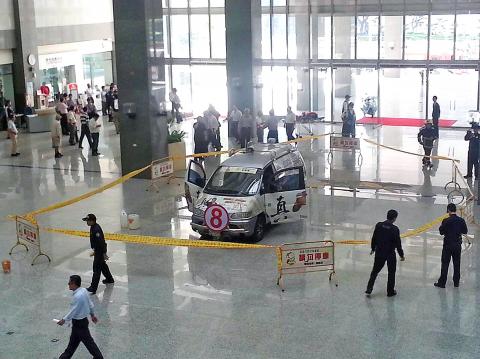 A campaign vehicle for independent Greater Kaohsiung city councilor candidate Lee Cheng-hsien stands cordoned-off in the Kaohsiung City Hall lobby after Lee drove it into the building yesterday morning as part of a protest against Kaohsiung Deputy Mayor Lee Yung-te.
Photo: CNA
No one would listen to his complaints, forcing him to resort to a "last-ditch" measure, he said.
No one was injured in the incident, which began at 10am, and the glass doors did not shatter.
Police said Lee Cheng-hsien had two 36 liter containers of gasoline in the vehicle.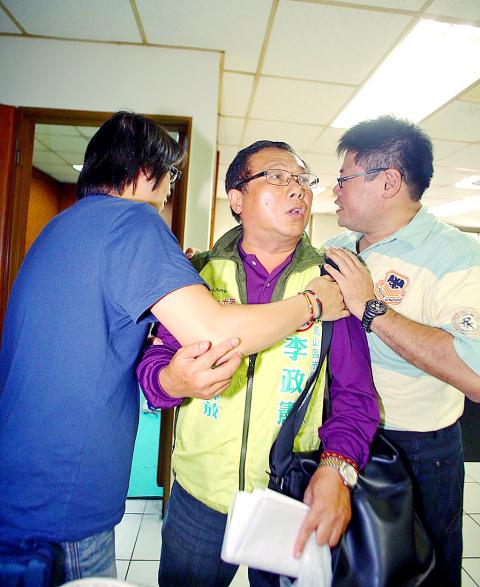 Independent Greater Kaohsiung city councilor candidate Lee Cheng-hsien, center, is taken in for questioning yesterday after driving a campaign van, laden with gasoline canisters, into the lobby of Kaohsiung City Hall.
Photo: CNA
A police officer stationed at the mayor's office on the third floor rushed downstairs after hearing the loud sounds of a vehicle's brakes and joined another officer and one of the lobby guards in overpowering Lee before handcuffing him to a chair next to the information desk, police said.
Lee Cheng-hsien was taken in for questioning and later charged with violating public safety regulations and obstructing an officer in the discharge of duties.
The deputy mayor said he had heard of Lee Cheng-hsien, but did not know him personally.
Lee Yung-te said he could not understand the candidate's accusations, as he had never interfered with the family's leasing of land.
Local media reports said Lee Cheng-hsien was using the sports facility as his campaign headquarters in contravention of regulations on the use of public facilities and was ordered to remove all campaign materials from the premises.
Kaohsiung Information Bureau Director-General Ting Yun-kung (丁允恭) was quoted in media reports as saying that the order was in line with the law, which specifies that the land on which the building stands can be used for sports purposes only.
Ting said candidates should not attempt to harass government agencies as a way of attracting public attention and should let their campaigns speak for themselves.
The city's Department of Sports said the badminton court is very popular with district residents.
Additional reporting by CNA
Comments will be moderated. Keep comments relevant to the article. Remarks containing abusive and obscene language, personal attacks of any kind or promotion will be removed and the user banned. Final decision will be at the discretion of the Taipei Times.