2014 ELECTIONS: Lien wins support from financial pundits
Chinese Nationalist Party (KMT) Taipei mayoral candidate Sean Lien (連勝文) yesterday won the endorsement of several financial experts, who said they hoped that Lien could do for Taipei what former New York mayor Michael Bloomberg did for the US city.
The pundits — who included former Taiwan Stock Exchange Corp chairman Schive Chi (薛琦), a former minister without portfolio; National Taiwan University economics professors Lin Chien-fu (林建甫) and Hsu Chen-min (許振明); Lu Hsin-chang (盧信昌), a professor in the university's international business department; and former Directorate-General of Budget, Accounting and Statistics director-general Duan Wei (韋伯韜) — told a news conference said that Taiwan needs to boost its efforts to negotiate free-trade agreements.
Lien said that many of his friends are very concerned about the economy of both Taipei and the nation. Taipei's mayoral election has attracted widespread attention because it is not just about who will become the next mayor, but about the direction the nation will take.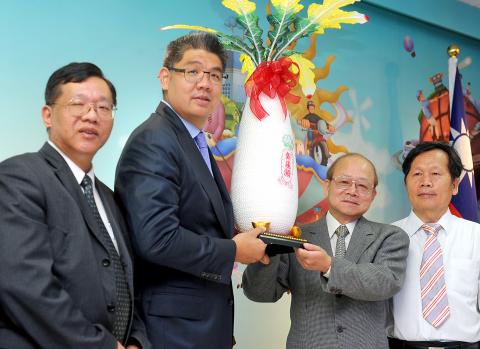 Chinese Nationalist Party (KMT) Taipei mayoral candidate Sean Lien, second left, yesterday receives a good radish at a news conference at his campaign headquarters.
Photo: CNA
"The election is also about how the economy in Taipei will be developed, which concerns all of us," Lien said. "All these things happen unconsciously, and it might be too late when you begin to notice it."
Many Taiwanese corporations will have to seek opportunities overseas because of the nation's small domestic market, he said.
After the China-South Korea free-trade pact takes effect, "many domestic petrochemical plants will have to lay off employees or cut employees' salaries, or they will not be able to survive," he said.
"I am stepping up at this crucial moment to help the public understand the challenges facing Taiwan's economy. This is not just about the election. It is about a question facing every person in Taiwan after Nov. 30," Lien said.
National Taichung University of Science and Technology professor Lee Lung-sheng (李隆生) said the Democratic Progressive Party wanted to be in sync with the world economy by bypassing China, but that proposal is not feasible, given that China's GDP already accounts for 15 percent of global GDP.
"When the nations around the world are trying to establish trade relations with China, how can Taiwan, being geographically so close to China, bypass China to be in sync with the rest of world economically?" he said.
Many netizens were quick to respond sarcastically to Lien's comments on the economy, with some saying that "Lien should be running for president instead."
Comments will be moderated. Keep comments relevant to the article. Remarks containing abusive and obscene language, personal attacks of any kind or promotion will be removed and the user banned. Final decision will be at the discretion of the Taipei Times.