ITRI unveils new breath-test chip
New technology will enable smartphone users to self-test their breath for alcohol, the Industrial Technology Research Institute (ITRI) said on Tuesday as it announcing the development of a new alcohol-sensitive chip which can be installed in smartphones and wearable devices.
With a volume equal to only a 40th of a grain of rice, the chip — after warming up — takes only 10 seconds to determine if someone's blood alcohol content exceeds permitted levels.
ITRI project manager Chen Jung-tai (陳榮泰) said the chip's programming reflects domestic regulations on alcohol consumption, displaying one of three lights in response to different levels of alcohol.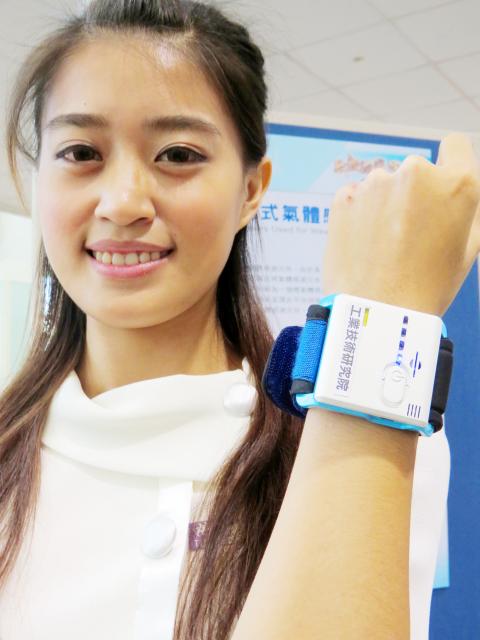 A woman wears a device for checking the amount of alcohol on someone's breath built around a new chip developed by the Industrial Technology Research Institute in Greater Tainan on Tuesday.
Photo: Tsai Wen-chu, Taipei Times
The chip shows a green light for alcohol levels below 0.15 milligrams per liter of breath when driving is safe, a yellow light for levels between 0.15 and 0.55 milligrams when driving is not advised and a red light for levels above 0.55 milligrams, when driving is forbidden.
When implanted into a smartphone or wearable device, people would be able to use the app to view their alcohol level at any time, he said.
He added that as a platform for measuring gases, the chip could have broad applications, including measuring carbon and nitrogen monoxide, air pollution and even halitosis by estimating the amount of hydrogen sulfide in breath.
Chen said that discussions are already in progress with firms interested in licensing the chip's technology. He estimated that industrial production of the chip would begin by the middle of next year.
Comments will be moderated. Keep comments relevant to the article. Remarks containing abusive and obscene language, personal attacks of any kind or promotion will be removed and the user banned. Final decision will be at the discretion of the Taipei Times.