Charities, young players gain from athlete's season
WINNGING CJALLENGE: Yang Dai-kang set a goal of 25 home runs for the season. He then promised to donate NT$30,000 each time he hit a home run
Baseball player Yang Dai-kang (陽岱鋼) fulfilled a promise yesterday by donating NT$750,000 to charity organizations for all of the home runs he hit during this year's Japanese professional baseball season.
Yang, an Amis Aborigine, has played for Hokkaido Nippon-Ham Fighters since 2007.
Earlier this year, he promised to donate NT$30,000 for each home run hit during the season.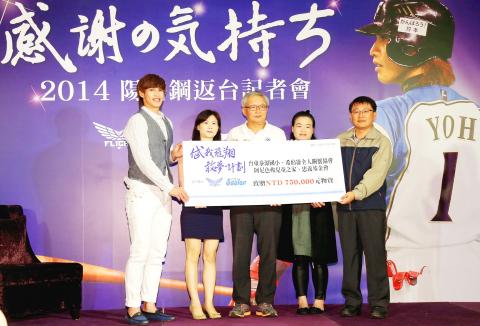 Baseball player Yang Dai-kang, left, yesterday holds up a symbolic check at a press conference in Taipei for the NT$750,000 that he is donating to charity organizations. Yang had pledged to donate NT$30,000 for every home run he hit during this year's Japan Professional Baseball season.
Photo: CNA
He finished the season with 25 home runs, 20 stolen bases and — for the third year in a row — the Gold Glove Award, for committing only one defensive error.
He achieved all this despite being sidelined for one month to recuperate from a knee injury sustained in a June game against the Chunichi Dragons.
Among the groups that were helped by Yang are the Chung Yi Social Welfare Foundation, Kids Alive International in Taitung County, Hebron Humanitarian Society in Taoyuan County and the Taiyuan Elementary School baseball team in Taitung County.
Speaking at a news conference following his return to Taiwan last night, Yang thanked his fans for their support.
He said credited his team's trainers for helping him win another Gold Glove award by ensuring that he could play despite his injuries.
He said he continued to monitoring his team's performance while he was recuperating and found that he was as nervous as an average fan about each game.
When he was finally able to return to action, he hit runs in his first eight games.
However, Yang said he was not in top physical condition for the playoffs because of injuries and fatigue.
"I told the coaches that it was all right to replace me so that the team can win. They said they had no one to replace me, even if they wanted to," he said.
Yang said he had challenged himself by setting a goal of 25 home runs for the season because he believed he could do it.
However, he refused to say whether he was completely happy with his performance.
"You will stop improving if you are content with what you have," he said.
Yang said his top priority now is to fully recover from his injury.
"The one-month recuperation period made me realize that health was the most important thing," he said. "Hopefully, I can help our team to play in the Japan Series."
Comments will be moderated. Keep comments relevant to the article. Remarks containing abusive and obscene language, personal attacks of any kind or promotion will be removed and the user banned. Final decision will be at the discretion of the Taipei Times.