People with disabilities rally for employment rights
Several hundred physically or mentally impaired people and their supporters took to the streets of Taipei yesterday, calling on the government to establish an antidiscrimination law to uphold equal employment opportunities for people with disabilities.
The annual event was held by a coalition of civic groups representing a broad spectrum of disability rights, including advocates for blind, deaf and mentally or physically impaired people. Lesbian, gay, bisexual and transgender (LGBT) advocates joined in, saying that they stood in solidarity with other underprivileged and discriminated groups.
This year's event focused on demands for the government to uphold equal employment rights for physically or mentally impaired people in the job market, with participants calling for an end to discrimination.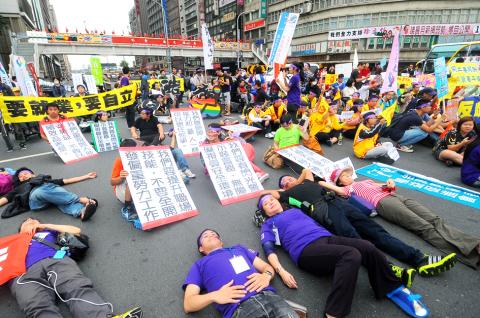 Protesters lie down at the intersection of Zhongxiao W Road and Zhongshan S Road in Taipei yesterday during a rally aimed at bringing attention to the inconveniences experienced by people with disabilities.
Photo: Wang Min-wei, Taipei Times
Following a rally in front of the Ministry of Labor building, participants marched through central Taipei, ending the event with a gathering on Ketagalan Boulevard, in front of the Presidential Office Building.
Organizers specifically designed the event to enable the full participation of different groups, with dozens of protesters on wheelchairs involved and a sign language interpreter signing throughout the event.
At one point, the demonstrators lay down on the road at the intersection of Zhongxiao E Road and Zhongshan N Road, stopping traffic for 10 minutes, as they demanded their voices be heard.
"Having a steady job is important in maintaining the integrity of physically impaired people, but we often do not have that opportunity in the first place," disability rights advocate Weng Yu-ling (翁玉玲) said.
One participant, nicknamed Hsiao-wen (小聞), said he faced discrimination as a hard-of-hearing person.
He said that his employer, a public sector agency, was willing to employ him only on a contract basis for six months at a time, asking him to find employment elsewhere for three months at the end of each stint before they would employ him again.
Other participants said businesses often canceled scheduled job interviews once they learned about their disabilities.
Those with jobs said that physically impaired employees were often limited to positions as interns or part-time staff, and often had difficulty getting promoted, even if they excelled at their job.
Comments will be moderated. Keep comments relevant to the article. Remarks containing abusive and obscene language, personal attacks of any kind or promotion will be removed and the user banned. Final decision will be at the discretion of the Taipei Times.