Two of Ko's colleagues questioned over account
'CLEAN': Ko Wen-je's campaign director reiterated that the Taipei candidate has nothing to hide because the management of his account follows strict regulations
The Taipei District Prosecutors' Office yesterday summoned two of independent Taipei mayoral candidate Ko Wen-je's (柯文哲) colleagues when he was working at National Taiwan University Hospital (NTUH) as part of its investigation into corruption allegations.
Liu Ju-yi (劉如意), the administrative secretary of the hospital's surgical intensive care unit (SICU) team, was summoned by prosecutors to testify on corruption, tax evasion, and money laundering allegations made by Chinese Nationalist Party (KMT) Legislator Lo Shu-lei (羅淑蕾) and former KMT legislator Chiu Yi (邱毅).
Another of Ko's former colleagues, Tsai Pi-ju (蔡璧如), the director of the hospital's extracorporeal membrane oxygenation (ECMO) team, was also questioned by prosecutors.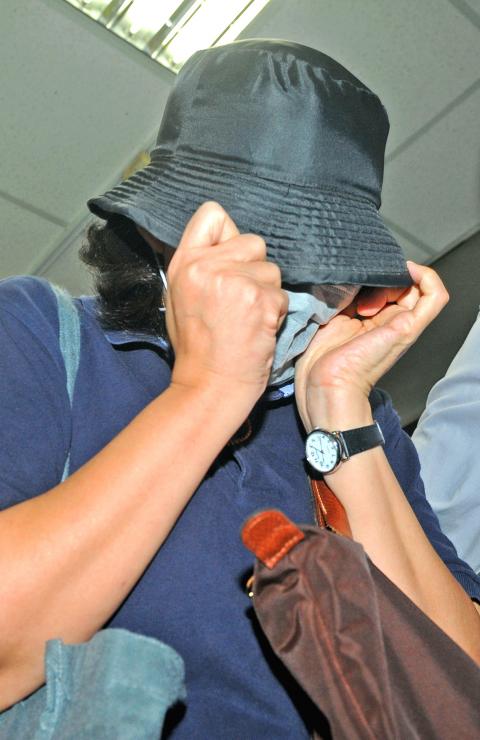 Liu Ju-yi, administrative secretary of National Taiwan University Hospital's surgical intensive care unit team, arrives at the Taipei District Prosecutors' Office yesterday.
Photo: Wang Min-wei, Taipei Times
Lo has alleged that as the head of the SICU team, Ko set up two public accounts under the name "MG149," as well as a private SICU account shared by all team members, and used the accounts for taking bribes, money laundering and tax evasion.
Earlier in the week, Chiu also alleged that ECMO manufacturers had wired hundreds of thousands of New Taiwan dollars into the SICU account as donations.
The investigation is still in the initial phase and Liu, who is in charge of the SICU account, was questioned as a witness, not a defendant, the prosecutors' office said.
After questioning, Lin, her face covered by a hat and a surgical mask, did not answer questions from the media and left quickly in a cab.
At a separate setting, Ko's campaign executive director, Yao Li-ming (姚立明), reiterated that all bank accounts related to Ko are "clean."
He said that Ko has nothing to hide and welcomes investigation by the judiciary.
"I really hope that details of the more than 400 accounts related to the NTUH can all be publicized, so that the public can see how clean Ko's MG149 account is," Yao said. "Ko has nothing to hide, because the management of the MG149 account follows strict regulations."
"We also hope that the judiciary can quickly finish investigating the allegations," he added.
Yao also rebutted a report by the Chinese-language Next Magazine last week, which said that Tsai met with the campaign team to discuss how to answer questions from reporters and prosecutors if they are asked about the accounts.
"They had a discussion, but there was no collusion [as the magazine alleged]," Yao said. "Tsai actually said that [anyone questioned by the media or prosecutor] should just tell the truth, but the report did not include that part."
Comments will be moderated. Keep comments relevant to the article. Remarks containing abusive and obscene language, personal attacks of any kind or promotion will be removed and the user banned. Final decision will be at the discretion of the Taipei Times.