Disadvantaged kids face food, illegal drugs issues: poll
The Taiwan Fund for Children and Families yesterday voiced its concern over the increasing number of children from economically disadvantaged families who are exposed to illegal drugs, citing a survey that tracked more than 4,000 children from these families over a five-year period.
"In 2009, we picked 4,000 from the 50,000 children that the foundation helps take care of and tracked them for five years," foundation executive director Betty Ho (何素秋) told a news conference in Taipei yesterday.
"Over the years, we have noticed many issues that need more public attention. However, there is one issue that is particularly worrying, and that is nearly 10 percent of respondents in the focus group said they have seen illegal drugs either through friends or in nightclubs," Ho said.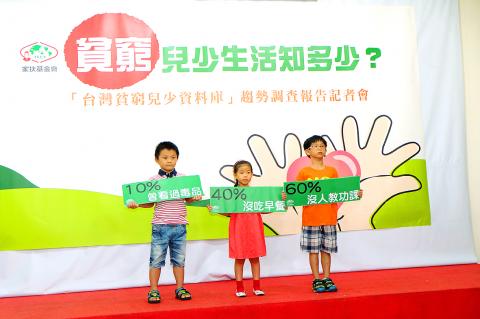 Three children hold up signs at an event organized by the Taiwan Fund for Children and Families yesterday to announce a report on children from economically disadvantaged families. The signs read "10 percent have seen drugs," "40 percent haven't had breakfast" and "60 percent have no one to help them with their homework."
Photo: Chen Ping-hung, Taipei Times
"Ten percent of 4,000 children, that is 400 [children]. It is a huge number," Ho added.
Foundation research and development director Wei Chi-li (魏季李) agreed, adding that the problem was worsening.
"According to our figures, as many as 6.9 percent of the children surveyed said they had seen illegal drugs [in 2009], and the number jumped to 9.6 percent this time," Wei said. "If they have seen illegal drugs, some of them may have actually done drugs, so it is a really a cause for concern."
Aside from the drug issue, a large percentage of children from disadvantaged families face more challenges in life.
"These children face three major problems: the first is food, second is education and third is coping with daily life," Ho said.
She added that this year's survey showed that more than 40 percent of respondents said they skip breakfast, more than 60 percent said they do not regularly have three meals a day and 30 percent said they intentionally skip meals to help their families save money.
"As for education, most of the families cannot afford to send their children to tutorial classes. More than 70 percent of the parents also said they do not have time to help their children with their homework because they are busy working to make a living," Ho said.
To help the government and academics better understand the problems that children from disadvantaged families face, Ho said the group has created a database on children of disadvantaged families.
"We welcome researchers to contact us to use the information, so that they may come up with better policies to help the children combat these challenges," Ho said.
Comments will be moderated. Keep comments relevant to the article. Remarks containing abusive and obscene language, personal attacks of any kind or promotion will be removed and the user banned. Final decision will be at the discretion of the Taipei Times.