Minister laments decline of languages
CULTURAL CONCERN: A survey on the prevalence of Aboriginal languages in Taiwan showed that only a small proportion of younger people are still speaking them
Citing the results of a survey on the use of Aboriginal languages, Council of Indigenous Peoples Minister Mayaw Dongi, an Amis, voiced his concern about their decline, calling on Aborigines across the country to put more effort into reviving their languages, warning that ethnic groups would vanish soon after their language disappears.
"The language is a decisive element in whether Aboriginal cultures prevail; when a language becomes history, the tribe will soon become history as well," Mayaw told a press conference, at which the council released the results of the survey that lasted almost a year and interviewed more than 12,000 Aborigines.
"It must be remembered that a language can only be preserved by that language's speakers, no matter how much concern and help others offer. It's the speakers' responsibility to save the language," he said.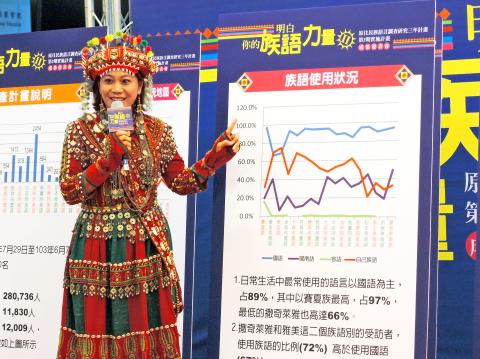 Council of Indigenous Peoples official Maljeveljev Tudjlimaw makes a presentation on the results of a nationwide Aboriginal language survey at a press conference in Taipei yesterday.
Photo: Loa Iok-sin, Taipei Times
Mayaw said he was concerned because the second phase of the nationwide survey on the Saisiyat, Sakizaya, Tao, Bunun, Amis and Puyuma languages — and 17 dialects of those languages — showed that, on average, 89 percent of the respondents speak Mandarin at home and that only 52.7 percent said they speak their Aboriginal language from time to time in their daily lives.
Maljeveljev Tudjlimaw, the director of the language division at the council's Department of Education and Culture said that among the six Aboriginal languages surveyed, Puyuma would be added to the endangered languages list, as only 27 percent of respondents said they spoke the Puyuma language regularly, while 94 percent said they spoke Mandarin during their daily lives and 46 percent Hoklo (commonly known as Taiwanese).
"Taking a further look at the figures, we can see that there is different language use among different age groups. Those who are 41 years old or above — especially those who are over 60 years old — speak their Aboriginal language better, while the 31-to-41 age group speak it not as well. The ability to speak their Aboriginal language is most worrying for those under 30," Maljeveljev said. "Among the six languages, the ability to use the Aboriginal language is the worst for Puyumas."
She said that there are also differences in each of the languages among Aborigines living in traditional Aboriginal lands and those who live in cities.
"Apparently, those living in traditional Aboriginal villages speak their languages better, while those living away do not speak as well," she said. "However, it must be noted that, whether living in Aboriginal villages or away, the Puyumas are not doing as well speaking or passing down their language."
On the other hand, Mayaw said there is also good news, as after three years of a language revival project there has been much progress in the language abilities of the Kavalans, Sakizayas and Saisiyats.
"The tribal language ability of these three Aboriginal groups, in general, has progressed well and has even surpassed some other groups," he said.
Previously, the three languages had been listed as "endangered" along with six other Aboriginal languages — Thao, Kanakanavu, Laa'rua and three dialects of Rukai.
"The purpose of the language survey is to identify the endangered languages, so that we may come up with a project to help revive those languages and to monitor the progress of the revival of the language," the minister said.
Mayaw said the project would involve exploring the history of the language, asking those who speak it to "adopt" several individuals or families as language mentors.
"We would also help pay the salaries if Aboriginal families hire babysitters who speak the language, or at kindergartens in Aboriginal areas that hire traditional language-speaking teachers, because we believe language learning must start in childhood," Mayaw said.
However, Mayaw expects to meet some resistance from Aborigines who enjoy a higher socioeconomic status, "because they think it's more important to learn English."
"I think our policy can only stop languages from declining further — Aborigines themselves must be serious about facing up to the problem," Mayaw said.
Comments will be moderated. Keep comments relevant to the article. Remarks containing abusive and obscene language, personal attacks of any kind or promotion will be removed and the user banned. Final decision will be at the discretion of the Taipei Times.