Village residents protest MOI's expropriation decision
AEROTROPOLIS PROJECT: Taiwan Association for Human Rights executive secretary Wang Pao-hsuan said county officials broke their promises to residents
Opponents of land expropriation for the Taoyuan Aerotropolis project yesterday said they would seek legal action against what they perceive as a deal worked out in an "opaque and ruthless manner."
The project, which requires the expropriation of about 3,200 hectares near Taiwan Taoyuan International Airport, received the green light from the Ministry of the Interior (MOI) on Tuesday.
Except for the airport zone that is to be developed by the Ministry of Transportation and Communications, the area to be developed by the Taoyuan County Government must be divided into sections to be developed in different stages.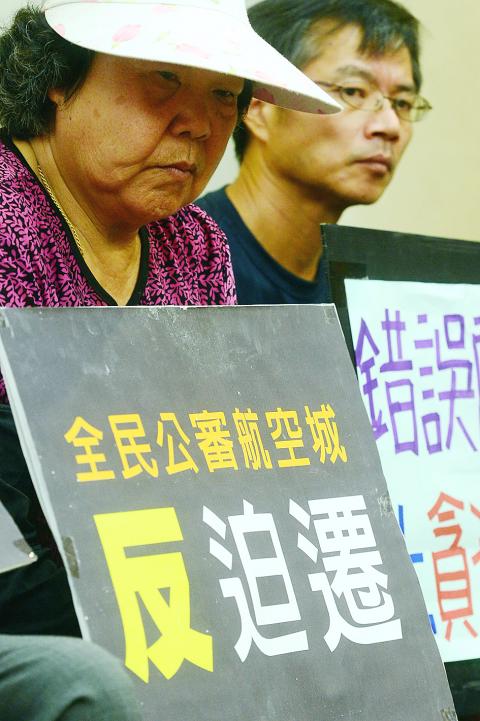 A woman holds a sign at a press conference at the Legislature Yuan in Taipei yesterday asking that the public be allowed to review the Taoyuan Aerotropolis project.
Photo: Wang Yi-sung, Taipei Times
Opponents said that the project had previously excluded Sankuaitso Village (三塊厝), which contains a massive amount of farmland, from being expropriated, but the review committee later decided to include it.
Residents of Hongchu (宏竹) and Luchu (蘆竹) villages were also upset that their properties, which contain a lot of farmland, are to be seized as well.
"This is the most shameless chapter in urban planning review history," said Thomas Chan (詹順貴), a lawyer with the Environment Jurists Association. "Judging from all the review meetings, we only see that the properties are to be developed to inflate their market value. There is no sign of professional urban planning."
The government cannot develop farmland unless it is absolutely necessary, Chan said.
Excluding Sankuaitso, or "land of two rivers," from the area to be expropriated would not affect the operation of the Taoyuan Aerotropolis, he said.
"The government claims that 90 percent of the residents in this area agreed to the land development deal, but are they residents or real-estate developers," Chan said.
Taiwan Association for Human Rights executive secretary Wang Pao-hsuan (王寶萱) said the Constitution protects the public's right to own property and questioned if the government can demolish homes by securing the consent of 90 percent of the residents in a neighborhood.
Wang accused Taoyuan County Government officials of making false promises to residents.
First they said that they would fully respect the opinions of those who did not want their land expropriated, but later, they said the property was needed, Wang said.
A resident surnamed Chang (張) said that she was tormented because the government insisted on expropriating her house, even though it was difficult for a woman to keep a home on her own.
Hongchu Village resident Lu Li-chin (呂理欽) said that the government claimed that the development project would create jobs and raise the nation's GDP.
"To farmers, these numbers are just ideals beyond their reach. They just want a place they can stay for the rest of their lives," Lu said.
Comments will be moderated. Keep comments relevant to the article. Remarks containing abusive and obscene language, personal attacks of any kind or promotion will be removed and the user banned. Final decision will be at the discretion of the Taipei Times.