Lien target of more ridicule after fresh gaffe
SANDY SHORES: The Taipei mayoral hopeful said an 'island' in Taipei, which Clara Chou said is actually a peninsula, should be turned into a free-trade pilot zone
Chinese Nationalist Party (KMT) Taipei mayoral candidate Sean Lien (連勝文) has again become the subject of derision after he suggested turning what he called "a small island in the northwest of Taipei" — the Shezidao (社子島) peninsula — into a free-trade pilot zone.
Lien voiced the Shezidao idea in a new campaign video he posted on Facebook on Sunday that features him chatting in English with a group of foreign residents sitting around a table with lunchboxes.
During the discussion, Lien solicits the foreigners' visions for and views about Taipei and then offers his thoughts on the ideas. At one point, the idea of establishing a "free-trade area" is brought up and a voice is heard saying that existing regulations on such proposals are "protectionist."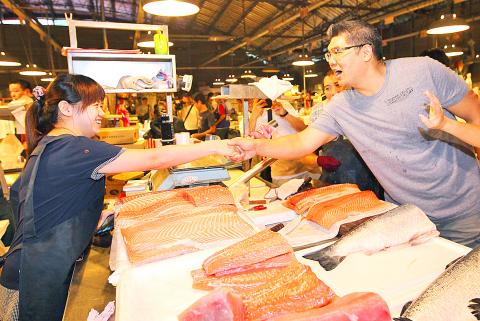 Chinese Nationalist Party (KMT) Taipei mayoral candidate Sean Lien, right, shakes hands with a stallholder at a fish market in Taipei's Wanhua District yesterday morning.
Photo: CNA
To this Lien is heard responding that local governments "can apply to [set up a] free-trade zone [in their territory] and I'm thinking that maybe we can use that small island in the northwest of Taipei and apply for [it to be made into one of the zones] because it is 30 minutes away from the city's downtown, the land cost there is really low and the people there really want development."
He then adds that it is unfortunate that the draft act for the establishment of free economic pilot zones is stuck in the legislature, "challenged by the opposition parties and some of the pro-independence groups."
Media personality and political pundit Clara Chou (周玉蔻) on Monday pointed out that the "small island" Lien was referring to is no longer an island, but now forms the tip of a peninsula after land was reclaimed from the surrounding rivers in the 1970s.
"This mistake betrays how alienated Lien is from the city and the municipal administration, as well as how weak his team is," Chou said.
Shezidao has been neglected for years, but its mayor has just announced a plan to spur development, the first-stage environmental evaluation of which is expected to be completed at the end of the year, Chou said.
"Did Lien do his homework on Shezidao before proposing a complete change to its development plan?" Chou asked.
Former Democratic Progressive Party legislator Julian Kuo (郭正亮) said the proposal showed Lien was inattentive toward Taipei and to the draft act for the pilot zones, saying the mayoral hopeful was not enough of a local to understand Shezidao's limits, but careless enough to not be wary about keeping his distance from a land development company that has been speculating there.
"According to the draft act, the presupposition for establishing a pilot zone is the presence of a sea port or an airport, of which Shezidao has neither," Kuo said.
The gaffe followed comments Lien made about the city's "desolate Neihu District (內湖)" as well as fictional oil reserves in Taipei.
Lien drew derision when he described Neihu as "a place without light at night and deprived of convenience stores and traditional markets" and again when he said that if oil began gushing from Taipei, he would "do a better job than Brunei" if elected to head the capital.
Comments will be moderated. Keep comments relevant to the article. Remarks containing abusive and obscene language, personal attacks of any kind or promotion will be removed and the user banned. Final decision will be at the discretion of the Taipei Times.