Exhibit shows Atayal children's empowerment by art
A US academic and a photographer who came to Taiwan in 2012 to carry out a project seeking to empower local Aboriginal children through art have seen the results of their efforts manifested in an exhibition of work by Atayal children that opened in Taipei earlier this week.
The exhibition, titled "I am Atayal!" showcases artworks ranging from photographs, murals and watercolor paintings to yarn, collages and clay pieces created by Atayal children from Nanao Elementary School in Yilan County.
It also introduces Atayal culture, myths and symbols, and shows how they have been incorporated into the school curriculum to promote learning and cultural pride.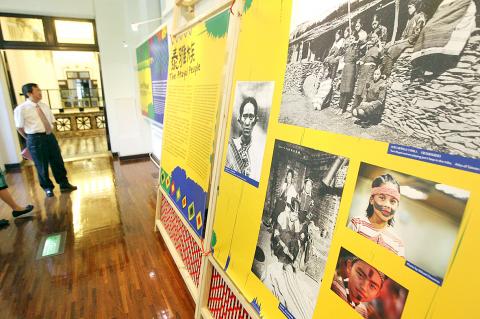 Visitors at an exhibition titled "I am Atayal!" at the National Taiwan Museum in Taipei on Monday look at works of art created by Atayal children from Nanao Elementary School in Yilan County.
Photo: CNA
The exhibition is the result of a 10-month project by Christine Yeh (葉晶), a professor of counseling psychology at the University of San Francisco, and Mikael Owunna, a photographer and English teaching assistant.
Yeh and Owunna arrived in Taiwan in 2012 on Fulbright scholarships, a grant funded by the US government for international educational exchanges.
From August 2012 to June last year, they designed and taught classes at Nanao Elementary School to help students appreciate and learn more about their cultural roots and identity.
For example, students were given disposable cameras to capture their everyday lives, learned Atayal words to describe themselves and legends that they then incorporated into their creations.
The Atayal language and culture is diminishing, Yeh said, estimating that only about 20,000 people out of the about 85,000-strong Atayal population still speak the language.
"So it's really important for that next generation to take ownership of their culture and feel proud of it, so that it can continue," said Yeh, whose work focuses on developing educational programs for youths who have been historically marginalized, using cultural empowerment and creative arts.
Jennifer Huang, a teacher at the school, said the project has helped students gain a deeper understanding of the Atayal culture and has increased their cultural pride.
"Now they know that the rhombic pattern represents the 'eyes of the ancestors' and that the color red represents warriors' blood, passion and courage," Huang said.
The exhibition opened on Monday and is to run until Aug. 31 at the National Taiwan Museum.
It will then be held at the Nanao Atayal Cultural Museum in September and in Aboriginal villages around Taiwan after that.
The exhibition is jointly organized by the National Taiwan Museum, the American Institute in Taiwan and the Foundation for Scholarly Exchange (Fulbright Taiwan).
Comments will be moderated. Keep comments relevant to the article. Remarks containing abusive and obscene language, personal attacks of any kind or promotion will be removed and the user banned. Final decision will be at the discretion of the Taipei Times.