Wage hike, weekly day off for caregivers lambasted
'MURDER': Legislator Yang Yu-hsin said the policy on foreign caregivers has devastated families. One woman threatens protests after her maid became more expensive
Chinese Nationalist Party (KMT) Legislator Yang Yu-hsin (楊玉欣), who has used a wheelchair since adolescence due to a rare disorder, yesterday accused the government of attempting to "murder" the families of the nation's 740,000 physically disadvantaged people in a slow, torturous manner with its problem-plagued, ill-designed long-term care system.
"Local media have reported recently that the Ministry of Labor is planning to raise the minimum wage for foreign domestic helpers and to grant them a mandatory weekly day off and annual leave. Such news has unnerved and devastated many families in the country who are already under immense pressure taking care of their disabled loved ones," Yang told a press conference in Taipei.
Yang said the ministry has placed tight restrictions on the employment of foreign caregivers, including that the employers have to pay NT$2,000 per month per foreign worker to the government's so-called Employment Security Fund — which is used to create benefits for local workers — and that each foreign domestic helper must leave Taiwan for one day after three years of service and can work in the country for no more than 12 years in total.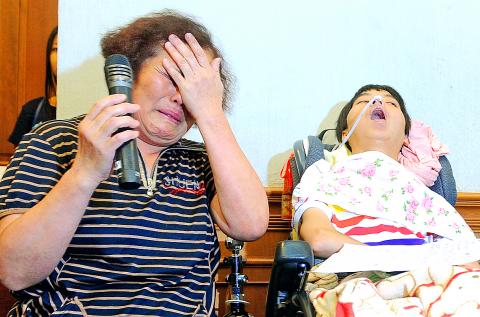 A woman surnamed Su, mother of three disabled children, cries at a press conference in Taipei yesterday, while calling on the government to provide assistance to disadvantaged families.
Photo: Chu Pei-hsiung, Taipei Times
"Since the government labels the employers of foreign workers as 'privileged ones,' they are also stripped of the right to apply for the government-funded respite care service while their foreign domestic helpers go on leave," Yang said.
Yang said these families turned to foreign caregivers only because they could not afford local caregivers, who charge nearly NT$2,000 a day.
"However, the government has long tormented this disadvantaged group with its problematic policies and left them helpless," she said.
A mother of three physically disabled children surnamed Su (蘇) said she was devastated and infuriated when she saw news reports of the ministry's new policy.
"I am just an ordinary mother who wants to take good care of her children. Although I have an Indonesian maid to help shoulder the workload, my children's needs for around-the-clock care has left me exhausted and worn out," Su said.
Su lambasted the ministry for attempting to rush the new policy through the legislature without a supplementary care system.
"If the government continues to ignore my voice and my family's predicament, I will stage a sit-in with my children in front of relevant agencies' buildings at the cost of our lives," Su said.
"The government has made me feel nothing but despair and heart-wrenching pain," she added.
Comments will be moderated. Keep comments relevant to the article. Remarks containing abusive and obscene language, personal attacks of any kind or promotion will be removed and the user banned. Final decision will be at the discretion of the Taipei Times.