Animal testing has to stop, group says
CRUEL BEAUTY: With China no longer requiring animal tests for cosmetics, Taiwan is lagging behind in implementing changes, the Taiwan SPCA says
The Taiwan Society for the Prevention of Cruelty to Animals (SPCA) on Monday urged the government to follow in the footsteps of China and the international community by banning animal testing for cosmetic products.
While China was the only country that had laws requiring animal testing for cosmetic products, that is no longer true after it lifted the requirement on Monday, Taiwan SPCA executive director Connie Chiang (姜怡如) said.
"This is a major step forward. Taiwan should follow this global trend. Let us distance beauty from cruelty," she said.
A laboratory technician administers an injection to a mouse in an undated photo provided by the Humane Society International.
Photo courtesy of Humane Society International
"The EU, Norway, India, Israel and other countries have already passed laws banning cosmetic product testing on rabbits, guinea pigs and other animals," Chiang said.
"Australia, Brazil, New Zealand and the US have drafted bills prohibiting the sale of cosmetic products associated with animal testing," she added.
Most Asian countries are moving in the direction of "cruelty-free" cosmetics, she said, adding that India already prohibits animal testing for cosmetic products, and last month imposed a ban on the sale of cosmetics that were tested on animals.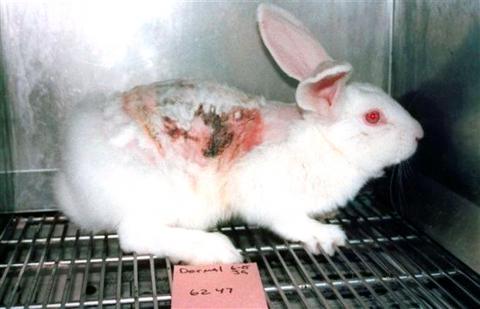 A laboratory rabbit suffering inflammation caused by cosmetics testing huddles in a cage in an undated photo provided by People for the Ethical Treatment of Animals.
Photo courtesy of People for the Ethical Treatment of Animals
Chiang said Vietnam has banned the "Draize eye test," a procedure in which drops of cosmetic ingredients are applied to the eyes of rabbits to test their effect.
The biggest progress was in China, which for the first time in 20 years amended its law on mandatory animal tests for cosmetics, she added.
"On the other hand, it is obvious that Taiwan has fallen behind on this worldwide trend," she said.
In a statement, the Taiwan SPCA took exception to Article 7, Item 1 and Article 16, Item 1 of the Statute for Control of Cosmetic Hygiene (化粧品衛生管理條例), in which the Ministry of Health and Welfare requires that the listing of new chemicals used in cosmetic products must include technical specifications of the ingredients' material properties.
That requirement necessitates the use of nonclinical trials for safety analysis, Chiang said.
"The nonclinical trials refer to animal testing, and these have led to companies conducting experiments on animals when they develop new products or add new chemical ingredients," Chiang said.
"Lab workers drip chemicals into the eyes of rabbits and other animals, or apply chemicals via ointments to the animal's shaven bare skin," she said.
"At times, they even force-feed these animals with high doses of drugs or chemicals, which in some cases kill them," she said.
"Scientists have in recent years proven that most forms of animal testing are unnecessary. They have shown their shortcomings in terms of accuracy of results, given that humans and animals have very different physiological reactions to various chemicals," Chiang said.
The Taiwan SPCA said that many alternative methods to animal testing have been developed in recent years, and all of them have passed verification by the scientific community using the most rigorous international standards.
"There are more than 1,000 ingredients that have been verified as safe for human use. Compared with animal testing, [these methods] provide a faster, less costly, more humane and more reliable assessment of cosmetic product safety," Chiang added.
Comments will be moderated. Keep comments relevant to the article. Remarks containing abusive and obscene language, personal attacks of any kind or promotion will be removed and the user banned. Final decision will be at the discretion of the Taipei Times.