FDA misleading public with GM food ad: group
SAFE TO EAT? A civic group accused the food agency of quoting specialists out of context to support its claim that scientific evidence is lacking that GM food causes cancer
The Homemakers United Foundation yesterday accused the Food and Drug Administration (FDA) of trying to mislead the public by running an advertisement that says there is insufficient scientific evidence that genetically modified (GM) food causes cancer.
The agency placed a half-page advertisement in the Chinese-language United Daily News on Wednesday last week entitled "Is genetically modified food carcinogenic? There is not enough scientific evidence!" It cited statements from a biotechnology professor in Taiwan, the vice president of a food company in South Korea and FDA Director Yeh Ming-kung (葉明功).
The advertisement claimed that a renowned experiment by French scientist Gilles-Eric Seralini — which showed that laboratory rats had higher cancer rates when fed with genetically modified corn — was removed by its publisher because of the small sample size and the breed of rats used for the experiment.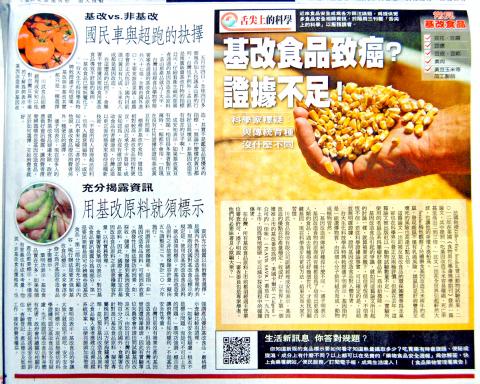 A Food and Drug Administration advertisement that says scientific evidence is lacking for claims that genetically modified food can cause cancer is shown in the Chinese-language United Daily News on Wednesday last week.
Photo courtesy of the Homemakers UNITED FOUNDATION
It quoted a Taiwanese professor and a South Korean food company official as saying that there is no clear scientific evidence that eating genetically modified food is harmful to human health.
It also quoted Yeh as saying that with so many genetically modified foods in the market, it would be meaningless and costly to specify every product, so the FDA will only mark food products that do not have genetically modified ingredients.
The foundation accused the FDA of quoting the specialists out of context to suit its own purpose and of wasting taxpayers' money to convey so-called "scientific facts."
It said that officers from Monsanto Co, the world's largest producer of genetically modified seed, had visited Taiwan in April, and questioned whether the agency had placed the advertisement to pave the way for genetically modified food products.
The laboratory rats used in Monsanto's experiments were the same, but it refused to publicize its experiment data and results, the foundation said.
"If genetically modified foods are so safe, why does the company refuse to publicize it?" the foundation asked.
It added that the negative effects of eating genetically modified food may become more evident after a longer period of time, and substances that do not seem to have an immediate harmful effect on the body do not mean that they are safe.
Proposed amendments to the Act Governing Food Safety and Sanitation (食品安全衛生管理法) requiring food companies to label genetically modified foods on product packages have just been drafted this month, but Yeh's remark is a staggering blow to efforts to protect people's right to know, it said.
The foundation urged the government to prioritize food safety and protecting the public, instead of ignoring risks such as environmental pollution and the harmful effect of growing or eating genetically modified foods.
Comments will be moderated. Keep comments relevant to the article. Remarks containing abusive and obscene language, personal attacks of any kind or promotion will be removed and the user banned. Final decision will be at the discretion of the Taipei Times.