Laid-off workers accuse TBS of breach of promise
RIGHTS CRITIC: A PTS reporter asked how the media group could criticize other companies for the way they treat their workers, while doing the same to its own
Accompanied by labor rights activists and Taiwan Broadcasting System (TBS) employees, laid-off TBS dispatch workers yesterday demonstrated outside the media group's headquarters, accusing management of reneging on its promise to place all temporary workers on its official payroll.
"We [dispatch workers] were told to go for an interview with management before they decide whether we can become regular employees," a former TBS dispatch worker, Chen Ying-chieh (陳盈潔), told reporters during the protest.
"Management told us not to worry too much, saying the interview was merely a process that we needed to go through. During the interview, the manager even congratulated me, saying I've worked at TBS for three years and may have 10 days of paid vacation," Chen said.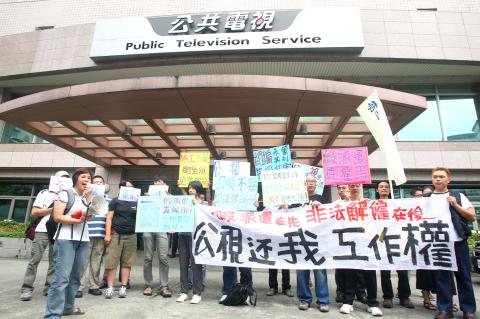 Laid-off Taiwan Broadcasting System dispatch workers protest in front of the Public Television Service building in Taipei yesterday.
Photo: Hu Shun-hsiang, Taipei Times
However, instead of being notified that she has become a permanent employee, Chen received a letter last month telling her that she had been laid off.
"TBS has always said that it stands for the public interest and human rights. How can it treat its own employees like this then?" Chen asked.
The plight of dispatch workers has largely been overlooked until a series of protests by TBS temporary workers last year. The demonstrations revealed that the media group has been using about 20 dispatch workers to fill some of its 900 positions.
TBS defended the practice as a way to save on costs of salaries and employee welfare payments.
However, while dispatch workers are supposed to fill temporary jobs, all of TBS' dispatch workers filled regular positions, with some having worked for the group for more than seven years.
Responding to the protests and public criticism, TBS management said that it would turn all dispatch workers into regular employees. However, six of them have been laid off since then.
Lee Chiung-yueh (李瓊月), a senior features reporter for Public Television Service (PTS), a member of the TBS group, also showed up to show her support for her former colleagues.
"We produced a lot of in-depth reports on labor disputes, and we criticized employers for using illegal practices in treating their employees, such as not giving them a chance to appeal when they are laid off," Lee said. "How can we continue to criticize others if our own company does the same thing?"
"I am not the only one from the news department here; many of my colleagues are also here to lend their support," she added.
National Federation of Independent Trade Unions executive director Chu Wei-li (朱維立) said TBS was dodging its responsibilities as an employer by using dispatch workers.
"These people work in the TBS building under the direction of TBS management, yet, you're saying these people are employees of the employment agency and thus have nothing to do with you," Chu said.
"It's a shame for a media group that has a very 'positive' public image and claims that it cares a lot about human rights," Chu said.
Comments will be moderated. Keep comments relevant to the article. Remarks containing abusive and obscene language, personal attacks of any kind or promotion will be removed and the user banned. Final decision will be at the discretion of the Taipei Times.