Chiang sticker campaign sparks furor at university
HEATED QUARREL: Three law students' campaign to get a statue of Chiang Kai-shek removed from Fu Jen Catholic University campus upset a military instructor
A quarrel broke out between students and a "military instructor" this week at Fu Jen Catholic University in New Taipei City, where students initiated a campaign to remove a statue of Chiang Kai-shek (蔣介石) from the school grounds.
Leading the campaign were three law students who had designed stickers with the slogan "Support us to get rid of the poison residue of Chiang Kai-shek from campus" (無限期支持蔣介石遺毒滾出校園), a red slash on a picture of Chiang and "Get Out!" in English.
When the three students put the stickers on a campus statue of Chiang earlier this week, a man nearby began a heated argument and tried to detain the students.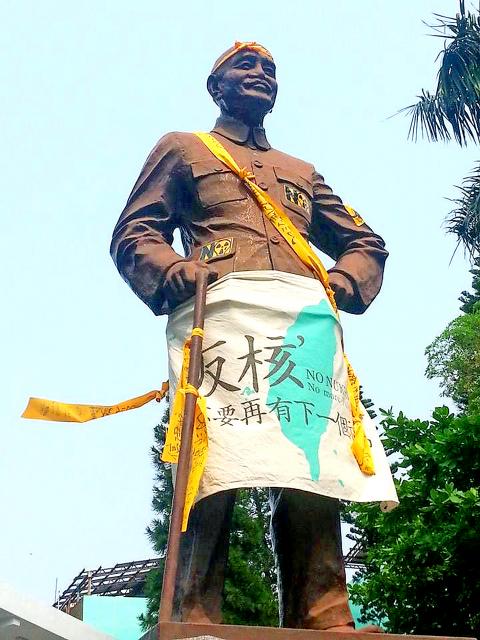 An anti-nuclear banner is wrapped around the waist of a statue of Chiang Kai-shek on the National Kaohsiung Normal University campus in Greater Kaohsiung on April 24.
Screengrab from National Kaohsiung Normal University's Facebook page
One of the students filmed the incident and posted it online.
The angry man, surnamed Shang (尚), was the university's military instructor.
Shouting, he called for the students to be arrested because they had broken school regulations by vandalizing public property.
"Who gave you the right to put stickers here? What you are doing is a criminal act," Shang said.
Initially, the students refused to remove the stickers and retorted: "Why can we not put stickers here? Please tell us which school regulation we are violating."
As the quarrel continued, Shang got more angry and shouted: "In my heart, Chiang Kai-shek is a great man."
"I was a captain in the military police. I have also been a prison warden, so I know the kind of crime you have committed," he added, demanding to know the students' names, their identification numbers and other personal information.
The students finally gave Shang their names and other personal information, while complaining that his verbal threats and his attempts to keep them from the statue were offenses against their personal liberty.
The video was heatedly discussed by netizens.
"These military instructors are using their rank to oppress people. It felt like turning back the clock, to be living under martial law," one netizen wrote.
"How can we still allow these officers, who have left or retired from the military, to continue such repression and abuse of students?" another wrote.
Some netizens said the students were wrong to "deface" the statue and had violated school regulations, while others insisted that all Chiang Kai-shek statues should be removed from all university campuses.
Fu Jen Catholic University director of public affairs Wu Chi-mei (吳紀美) denied Shang had called the police and asked them to arrest the students or taken any action to punish the students.
Wu said Shang did not mean any harm and he was just trying to stop school property being vandalized, adding that he had been in the job for one-and-a-half years and had not previously had any conflict with students.
Comments will be moderated. Keep comments relevant to the article. Remarks containing abusive and obscene language, personal attacks of any kind or promotion will be removed and the user banned. Final decision will be at the discretion of the Taipei Times.