Former deputy commissioner may lose award
Former Taoyuan County deputy commissioner Yeh Shih-wen (葉世文) will be stripped of his "exemplary civil servant" title if he is found guilty of corruption, the Ministry of the Interior said yesterday.
If he is convicted, Yeh will also be required to return a trophy and a cash prize of NT$50,000 (US$1,663) that were part of the award, Deputy Minister of the Interior Chen Chwen-jing (陳純敬) said.
Yeh is accused of accepting a bribe of NT$16 million from Farglory Group chairman Chao Teng-hsiung (趙藤雄) to help the company win a tender in April for the construction of an affordable housing project in Bade City (八德), Taoyuan County.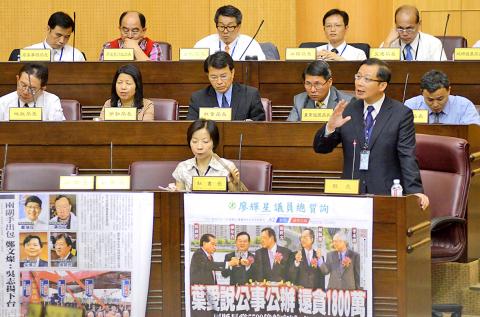 Taoyuan County Commissioner John Wu, front right, speaks at a Taoyuan County Council meeting yesterday.
Photo: CNA
After the matter came to light on Friday last week, Yeh was dismissed from his position as deputy county commissioner. He and Chao are being detained and held incommunicado as the investigation proceeds.
Yeh was named an "exemplary civil servant" in June last year, when he headed the ministry's Construction and Planning Agency, for his role in executing the government's policy to provide affordable housing.
Chen confirmed that while working at the agency, Yeh was put on a watchlist by the ministry's ethics office for allegedly "socializing too much" and maintaining "complex social circles."
Despite the lack of direct evidence, the allegations against Yeh were submitted to the Agency Against Corruption for investigation, Chen said.
Chen said the ministry is investigating why Yeh was nominated and won an "exemplary civil servant" award when he was on a watchlist for possible ethical violations.
Yeh stepped down as the agency's director-general in June last year and was appointed deputy county commissioner shortly afterwards.
In related news, the Taoyuan County Government is revising its affordable housing policy to make more units available for rent in the wake of the bribery scandal.
Chu Kang-cheng (朱康震), head of the county government's Information Department, said the affordable housing project in Bade would go ahead as scheduled, but only 60 percent of the units available would be sold, instead of 90 percent as originally planned, and the remainder would be rented.
For those units put on sale, the county will attach a buyback provision requiring owners to sell the units back to the government if they want to move out.
Chu also announced that the county would no longer develop affordable housing for sale and only offer social housing for rent.
Comments will be moderated. Keep comments relevant to the article. Remarks containing abusive and obscene language, personal attacks of any kind or promotion will be removed and the user banned. Final decision will be at the discretion of the Taipei Times.