US group, local activists blast rabies-testing plan
PLANNED TESTS PANNED: EAST and specialists from the US have said in a report that planned testing for rabies on live animals is inhumane and unnecessary
The Council of Agriculture's planned testing for rabies serves no purpose, a report released by civic group Environment and Animal Society of Taiwan (EAST) and US nonprofit Physicians Committee for Responsible Medicine said yesterday.
The first case of rabies found on a wild Formosan ferret-badger was confirmed in July last year. It had previously been thought rabies had been eradicated in Taiwan by 1959.
In August last year specialists from the US Centers for Disease Control and Prevention discussed with government agencies measures for tackling the outbreak.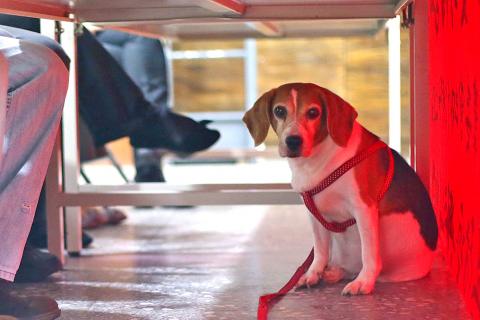 A beagle previously used for animal testing sits under a table at a press conference yesterday in Taipei organized by the Environment and Animal Society of Taiwan.
Photo: CNA
EAST executive director Chu Tseng-hung (朱增宏) said that while the conclusion of the meetings was that animal testing was unnecessary, the council's Animal Health Research Institute announced that animal testing — using 190 mice, 36 ferret-badgers and 14 beagles — was needed and had been recommended by foreign specialists.
Chu said the agency equivocated on the reason for live testing, but finally stated it was to test the effectiveness of existing pet vaccines, develop new vaccines and understand the pathogenesis of rabies-infected dogs.
"Article 15 of the Animal Protection Act (動物保護法) stipulates that when it is unavoidable to use live animals for scientific application, the number of tests should be kept to a minimum and conducted with the least pain or harm. Our report proves that the experiment is unnecessary" Chu added.
Committee medical research specialist Sarah Cavanaugh said the council believes animal testing is needed because Taiwanese rabies is unique, but the protein sequences of viruses found in Taiwan and China only differ by 10 percent.
All types of rabies belong to one of three lyssavirus phylogroups and current vaccines can protect against all viruses in this phylogroup, Cavanaugh said.
"So the 10 percent difference between the Chinese and Taiwanese rabies is not particularly large," she said, adding that current rabies vaccines should be effective against Taiwanese rabies.
Cavanaugh said a technique accepted worldwide — fluorescent antibody virus neutralization testing — draws blood from vaccinated dogs to collect serum and mixes the serum with rabies-infected cells to test its effectiveness, a procedure that does not require killing or harming the animals.
In addition, she said there have been a variety of studies in other countries on the pathogenesis of rabies in infected animals, so the Council of Agriculture experiment is redundant.
Yeh Lih-seng (葉力森), a professor of veterinary medicine at National Taiwan University, said an in-depth epidemiologic survey on wild animals is more necessary for Taiwan.
Democratic Progressive Party (DPP) Legislator Hsiao Bi-khim (蕭美琴) said that since July last year, there were 45 cases (39 dogs and six cats) of animals reported to have been bitten by rabies-infected ferret-badgers and 39 of them were confirmed to have been infected by rabies.
During the time that these 45 animals were kept captive for observation, no data were collected for further testing, which is a flaw that must be addressed, Hsiao said.
She added that the council, which is in charge of the nation's animal protection, does not value life, and questioned how it could monitor animal testing or cruelty perpetrated by others.
Comments will be moderated. Keep comments relevant to the article. Remarks containing abusive and obscene language, personal attacks of any kind or promotion will be removed and the user banned. Final decision will be at the discretion of the Taipei Times.