RAIL RAMPAGE: Autopsies completed on victims of Taipei MRT knife attack
Forensic pathologists yesterday conducted autopsies to determine the causes of death of the four people in the random killing in Taipei on Wednesday, finding that two were stabbed in the heart with a knife, one was struck with the knife in the left chest, lacerating his heart, and one suffered stab wounds to her aorta.
After the autopsies, the bodies of the four people were returned to the custody of family members, who initially refused to allow the procedure.
Cheng Chieh (鄭捷), 21, was detained after the killing spree, which also resulted in injuries to more than 20 people on a Taipei MRT train.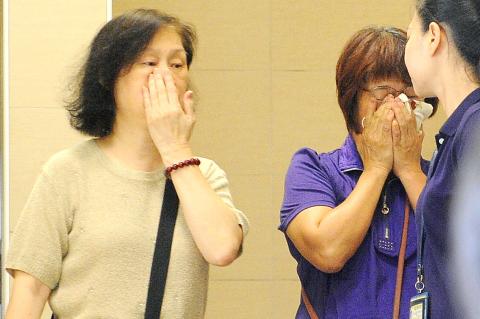 Members of the families of the victims of Wednesday's killings on the Taipei Mass Rapid Transit system yesterday wait outside the autopsy room in New Taipei City.
Photo: Chen Chih-chu, Taipei Times
The families agreed to the autopsies after prosecutors told them that failure to present causes of death in court might clear the alleged killer of the charges.
According to prosecutors at New Taipei District Prosecutors' Office, the alleged killer stabbed Chang Cheng-han (張正翰), 26, in the upper left chest and when the he pulled the knife out of Chang's chest, he rotated the knife to cut his heart.
Chang was set to obtain a masters degree in business administration and international business from National Cheng Kung University in Greater Tainan this summer. He was in Taipei on Wednesday for a job interview.
The results of the autopsy on 62-year-old Lee Tsui-yun (李翠雲), a retired employee of Chunghwa Telecom, found that her heart was pierced by a knife and her liver was also stabbed, according to prosecutors.
Prosecutors said that a knife had been thrust through the heart of 28-year-old Hsieh Ching-yun (解青雲), into his diaphragm and also his liver.
Hsieh was a father of children aged two and three. He was on his way home from work when he was killed.
Pan Pi-chu (潘碧珠), 52, was also on her way home.
Prosecutors said that she died from massive blood loss after she suffered a stab to her right shoulder that hit her aorta.
Comments will be moderated. Keep comments relevant to the article. Remarks containing abusive and obscene language, personal attacks of any kind or promotion will be removed and the user banned. Final decision will be at the discretion of the Taipei Times.