Group seeks animal police unit
PET DETECTIVES? Citing a rise in public awareness of cases of mistreatment, pet-lovers and a legislator joined the group in calling for a domestic pet patrol
An animal welfare group, pet-lovers and a legislator yesterday called for an animal protection squad to be established in the police force, so that rising reports of animal abuse can be stopped.
Chinese Nationalist Party (KMT) Legislator Ting Shou-chung (丁守中) said animal abuse reports have surged recently — from a total of 8,626 cases in 2012 to 12,673 cases last year, based on Council of Agriculture (COA) statistics.
Ting said the increase showed that the public is more aware of animal cruelty and it needs active government responses to these cases.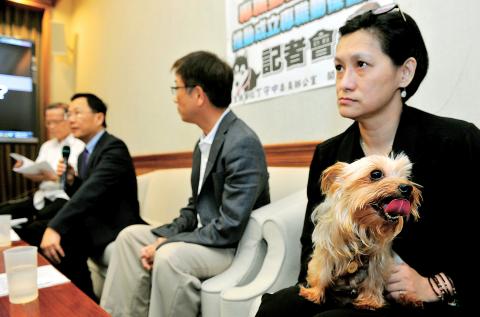 Chinese Nationalist Party (KMT) Legislator Ting Shou-chung, second left, holds a press conference in Taipei yesterday with members of the Life Conservationist Association, an animal welfare volunteer organization.
Photo: Liu Hsin-de, Taipei Times
"However, while 'animal police' have been set up in countries such as the Netherlands and in some US states, the police in Taiwan are merely playing a passive role that cooperates with the COA's animal control officers," he told a press conference at the Legislative Yuan.
"Most of the animal-control work is done only 'downstream' of problems, such as catching stray animals, but the problems' real solutions are at their source, such as effectively cracking down on illegal breeding farms," Life Conservationist Association vice chairman Chang Chang-ter (張章得) said.
Ho Su-chiu (何素秋), a volunteer who has helped save abused animals for the past four years, said many dogs were rescued from deplorable conditions with serious health problems — some hairless from mange, or suffering from bone fractures and other injuries.
"We feel helpless," she said through tears, as she described a pet owner who she said let his two pit bull terriers attack and kill several stray dogs in a park. When his acts were reported, Ho said the owner "sneered" and said that he could always take his dogs to other parks.
"Often, police officers at the scene of ongoing animal abuse have said that they didn't know which articles of which law they should enforce," volunteer Amy Chang (張沂卉) said while holding a one-eyed Yorkshire terrier that she saved.
Ting said they want an "animal police" squad to crack down on illegal breeding, as well as investigate and stop mistreatment.
National Police Agency (NPA) Deputy Director-General Lin Kuo-tung (林國棟) said the COA is the competent authority for enforcing the Animal Protection Act (動物保護法), so his agency can work only to build officers' knowledge of relevant laws and instruct them to aid animal-control officers.
Chen Ming-hung (陳明宏), who also works for the NPA, said that an officer may act only if an animal is killed, and that only COA agents can identify crimes in suspected abuse cases.
Comments will be moderated. Keep comments relevant to the article. Remarks containing abusive and obscene language, personal attacks of any kind or promotion will be removed and the user banned. Final decision will be at the discretion of the Taipei Times.