CCW pans legislators' low work rate, transparency
SHORT SHRIFT: The group called on legislators to put more effort into their work, as some of them work only 2.5 hours a day, while some do not even speak in sessions
Legislators work on average 2.5 hours a day, Citizen's Congress Watch (CCW) said yesterday, as it criticized lawmakers over their low meeting attendance rate and attempts to prevent the public from knowing what happens in the legislature.
"While most people are suffering from long work hours and overtime, we are surprised to find that, on average, some legislators may need to work only 2.5 hours a day," CCW executive director Chang Hung-lin (張宏林) said at a press conference in Taipei.
"Even at the Education and Cultural Committee, which has the longest meetings, the average meeting time is 5.3 hours," he said.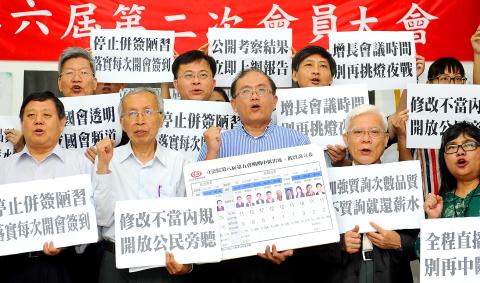 Members of Citizen's Congress Watch hold up signs in Taipei yesterday that call for improvements to be made to the legislature, as well as a list of photographs of legislators with low attendance rates.
Photo: Chang Chia-ming, Taipei Times
Chang said that, according to the group's calculations, the Judiciary and Organic Laws and Statutes Committee has the shortest average meeting time at 2.5 hours, followed by the Transportation Committee at 2.93 hours, the Internal Administration Committee (3.03 hours), the Foreign and National Defense Committee (3.07 hours), the Finance Committee (3.41 hours), the Social Welfare and Environmental Hygiene Committee (4 hours), the Economics Committee (4.02 hours) and the Education and Cultural Committee (5.29 hours).
Chang added that Chinese Nationalist Party (KMT) legislators Lin Tsang-min (林滄敏) and Hsieh Kuo-liang (謝國樑) have the lowest attendance rate, with Lin having attended only 60 percent and Hsieh only 29.41 percent of the meetings they were supposed to attend in this legislative session.
Chang said he understands that some lawmakers would rather spend more time interacting with voters in their constituencies than attend meetings, as they plan to run in the year-end local elections, but "if this is the case, you may want to consider resigning so that you can arrange your time however you like."
"In addition, based on the official Legislative Gazette, Lin, Hsieh and KMT Legislator Alex Tsai (蔡正元) did not speak even once during question-and-answer sessions in the current legislative session," Chang said, urging lawmakers to spend more time on their work, instead of trying to cram everything into the last days of each legislative session, or having extra sessions that would allow them to receive additional pay.
While most committees have short meeting hours, lawmakers also frequently undertake overseas travels, paid for with taxpayers' money, he added.
"So far lawmakers have spent 249 days of 'official visits' abroad," Chang said. "Yet the lawmakers are not required to submit any report or make briefings over their overseas official visits — how do we know if they are really on official business or just traveling around overseas using taxpayers' money?"
CCW board member Chen Yao-hsiang (陳耀祥) called on lawmakers to put more effort into their work.
"As voters' representatives, lawmakers should use the power granted to them by the voters in a better way: Question government officials whenever necessary and hold public hearings to allow more citizen participation in the policy making process," Chen said.
CCW member Chen Chien-fu (陳建甫) said there is a lack of transparency at legislative meetings.
"The public is now allowed to monitor legislative meetings through the legislature's online live broadcast system, but there tend to be black screens whenever physical or verbal conflicts occur during meetings," he said.
"There has been several incidents in which civic groups who were invited by lawmakers into meeting rooms to observe the meetings were asked to leave. This is unlawful," Chen added.
Comments will be moderated. Keep comments relevant to the article. Remarks containing abusive and obscene language, personal attacks of any kind or promotion will be removed and the user banned. Final decision will be at the discretion of the Taipei Times.