Families arrive home from Vietnam
The 371 Taiwanese passengers who left Vietnam on a chartered flight amid spreading anti-Chinese demonstrations in the country expressed relief upon returning home early yesterday.
The China Airlines flight, provided by Taiwan's largest airline carrier to assist the large number of Taiwanese nationals trying to flee Vietnam, landed at 1:53am, about an hour later than scheduled.
Passengers were greeted with billboards reading "Welcome home," and with chocolates provided by the airline.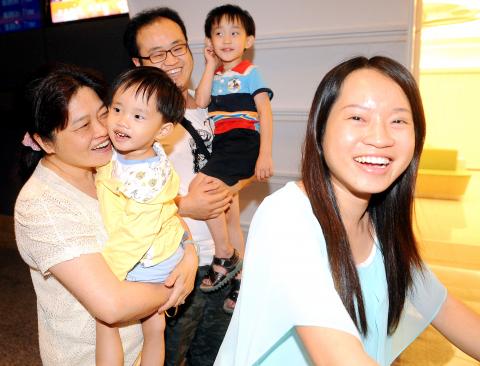 A family are all smiles after returning to Taiwan from Vietnam at Taiwan Taoyuan International Airport early yesterday morning on the first chartered flight carrying Taiwanese businesspeople in Vietnam after anti-Chinese demonstrations broke out there earlier this week.
Photo: Chu Pei-hsiung, Taipei Times
Many on the plane thanked the airline and said they were relieved to be home after the violence that damaged hundreds of Taiwanese factories and has claimed the lives of at least two Chinese employees since Tuesday.
However, some were quick to say that the majority of people in Vietnam are friendly and that the riots over China's placement of an oil rig in contested waters do not represent the usual attitudes of Vietnamese.
Tsai Jen-pin (蔡仁賓), a Taiwanese businessman who had been reported missing during the chaos, took the red-eye flight with his wife and two children.
He said he was so frightened when the riots broke out that he hid in a garbage heap for two days before reuniting with his family.
Tsai said he brought nothing with him, as he fled his besieged factory, where he said rioters smashed windows and looted "almost everything" before setting the building on fire.
He said he disguised himself and walked for three hours to reach Taiwan's representative office in Ho Chi Minh City, where he met his family.
Tsai said that anyone believed to be Chinese was attacked and that the attackers made no distinction between Chinese citizens and Taiwanese, because most of the the rioters said: "Taiwan is part of China."
Minister of Foreign Affairs David Lin (林永樂), who was at the airport to greet the passengers, said his ministry would help Taiwanese businesses to seek compensation from Vietnam.
Lin also said the situation in Vietnam appeared to have calmed down, adding that Hanoi has vowed to protect Taiwanese citizens and their assets in the country, where reports said that more than 20 people have died in the unrest.
Among other local political figures who greeted the passengers yesterday were former premier Yu Shyi-kun (游錫堃), Taoyuan County Commissioner John Wu (吳志揚) and Chiayi County Commissioner Helen Chang (張花冠).
The Ministry of the Interior said yesterday that nearly 6,000 Taiwanese nationals have safely returned from Vietnam following the riots.
As of noon yesterday, a total of 5,760 Taiwanese citizens are back in the nation, nearly two dozen of whom were traveling without even a passport as they fled anti-Chinese protests in Binh Duong Province that turned violent on Monday, the ministry said in a statement.
Taiwanese officials have been placed at Ho Chi Minh City's Tan Son Nhat International Airport to help Taiwanese nationals return home, the ministry said.
Meanwhile, Taiwan's representative office in Ho Chi Minh City said it has two buses on standby in Binh Duong to take Taiwanese citizens to the airport at any time.
The Ministry of the Interior's National Immigration Agency has contacted Vietnamese authorities to demand appropriate protection for Taiwanese citizens remaining in the country, the ministry said.
Comments will be moderated. Keep comments relevant to the article. Remarks containing abusive and obscene language, personal attacks of any kind or promotion will be removed and the user banned. Final decision will be at the discretion of the Taipei Times.