VIETNAM PROTESTS: Officials say no to Beijing's initiative
CROSS-STRAIT COOPERATION: Lawmakers voiced concern that joining hands with China to deal with sea disputes could undermine Taiwan's relations with other nations
Government officials yesterday rejected Beijing's call for cross-strait cooperation on dealing with territorial disputes in the South China Sea, pledging not to take sides in any dispute involving claimants.
Minister of Foreign Affairs David Lin (林永樂) told a legislative meeting that the government "sees no room for cooperation with mainland China on South China Sea issues."
He was answering questions by lawmakers on the government's response to Taiwan Affairs Office spokesperson Ma Xiaoguang (馬曉光), who on Wednesday renewed calls for cross-strait cooperation on the issue amid ongoing anti-China protests in Vietnam sparked by China's installation of an oil rig in waters also claimed by Vietnam.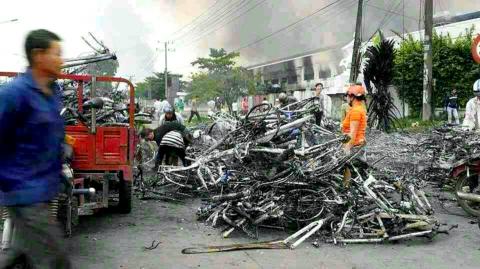 A handout photo released by Greater Tainan Councilor Wang Ting-yu shows a pile of bicycles destroyed in the anti-Chinese protests at an undisclosed location in Vietnam yesterday.
Photo provided by Greater Tainan Councilor Wang Ting-yu
As hundreds of Taiwanese-invested firms were engulfed in the protests in Binh Duong and Dong Nai provinces, Ma told a press conference that China was awaiting Taiwan's response to its call for cross-strait initiatives in dealing with the issue.
Ma did not elaborate on the content of the initiatives, but said Beijing had presented the proposal to Taiwan through official and unofficial channels.
Ma on Wednesday said that the islands in the South China Sea and their adjacent waters are inherent territory of China and that safeguarding the nation's sovereignty and its territory as well as maintaining the overall interests of "zhonghua minzu (中華民族)" is a "responsibility that lies with people on both sides of the [Taiwan] Strait."
Several lawmakers expressed concern that having Taipei and Beijing join hands in asserting sovereignty over the region could have serious repercussions on Taiwan's relations with other South China Sea claimants and their allies.
Chinese Nationalist Party (KMT) Legislator Johnny Chiang (江啟臣) said that cooperation between Taiwan and China on the territorial disputes "could widen the chasm of misunderstanding among Vietnamese people against Taiwan."
The misunderstanding is already there and is partly responsible for the protests targeting Taiwanese-invested businesses, Chiang said.
KMT Legislator Lu Shiow-yen (盧秀燕) suggested that the government seek to establish diplomatic relations with countries engaged in confrontation with China over territorial issues, such as Vietnam and the Philippines, with the help of the US and Japan to allay doubts they might have about Taiwan siding with China on the disputes.
"You should bring up the issue with the US to turn the crisis into an opportunity," Lu said.
National Security Bureau Director-General Lee Hsiang-chou (李翔宙) dismissed Lu's suggestion, saying that Taiwan should "stay neutral on any conflict between two [or more] parties in a territorial dispute."
Any countries involved in a territorial dispute should seek to have the dispute resolved in accordance with international law, Lee said.
"We are not a troublemaker, but a peacemaker. We would like to see countries embrace the spirit of the East China Sea Peace Initiative to handle the dispute in the South China Sea," Lee said, referring to President Ma Ying-jeou's (馬英九) proposal to have the Diaoyutai Islands (釣魚台) issue, with Taiwan, China and Japan laying claim to the islands, peacefully resolved through dialogue.
Lin said that the cross-strait relationship is of equal importance to the nation's relationship with the US, Japan, the Philippines and Vietnam.
The ministry will spare no efforts to elevate Taiwan's relationships with these countries, but when it comes to the establishment of diplomatic ties, "the international reality facing our country needs to be taken into consideration," Lin said.
Comments will be moderated. Keep comments relevant to the article. Remarks containing abusive and obscene language, personal attacks of any kind or promotion will be removed and the user banned. Final decision will be at the discretion of the Taipei Times.