Air quality worst among 'Tigers'
The average air quality in Taiwan has become the worst among the four "East Asian Tigers" — Taiwan, Hong Kong, Singapore and South Korea — and even worse than some cities in China, the Taiwan Healthy Air Action Alliance and legislators said yesterday.
Alliance founder and Changhua Christian Hospital gynecologist Yeh Guang-peng (葉光芃) said he and the Changhua Medical Alliance for Public Affairs had analyzed air quality reports published by the WHO, and discovered that the annual average of PM10 (fine particles in the air smaller than 10 micrometers in size) concentration in Taiwan was as high as 54 micrograms per cubic meter.
He said the annual average PM10 level of Taiwan was about two times that of Austria and Singapore, the highest among the East Asian Tigers and even higher than some cities in Southeast Asia and China.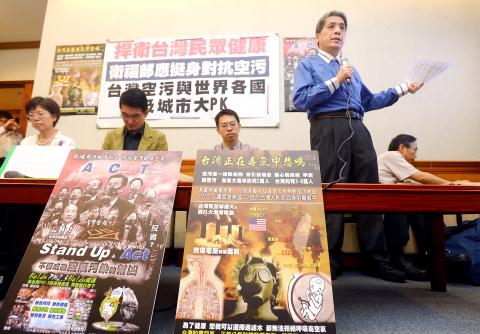 Taiwan Healthy Air Action Alliance founder Yeh Guang-peng, standing, is joined by fellow alliance members and legislators during a press conference in Taipei yesterday to discuss Taiwan's air quality.
Photo: Wang Yi-sung, Taipei Times
Furthermore, Yeh said the PM10 annual average in Taipei — 47.1 micrograms per cubic meter, ranked only 1,089 among 1,600 cities around the world, showing that the nation's air quality still has much room for improvement.
Comparing that level with a few cities in China, he said the PM10 levels in Shenzhen, Xiamen and Quanzhou were better than those in Chiayi and Greater Kaohsiung; and the air quality in Shanghai was better than Greater Kaohsiung's Fongshan District (鳳山) and Greater Tainan's Sinying District (新營).
The alliance said while the environmental and health agencies in other countries are working together to tackle air pollution problems, the Ministry of Health and Welfare seemed to be too passive in dealing with the health risks from serious air pollution.
Lin Chen-su (林真夙), a section chief at the ministry's Health Promotion Administration, said the agency would work to improve health education to inform the public about air pollution and related health risks, and also to suggest prevention measures.
The Environmental Protection Administration said that the average PM10 levels in the nation have already decreased greatly over the past years, but sometimes high PM10 levels result from certain geographical and climate conditions, such as dust near river banks in central and southern Taiwan, but that it will continue to make efforts to reduce air pollution.
Changhua Medical Alliance for Public Affairs consultant Yang Joe-ming (楊澤民) said children, elderly people and people suffering from asthma or cardiovascular disease are more sensitive to air pollutants and should wear face masks when commuting to reduce harmful exposure.
Comments will be moderated. Keep comments relevant to the article. Remarks containing abusive and obscene language, personal attacks of any kind or promotion will be removed and the user banned. Final decision will be at the discretion of the Taipei Times.