DPP legislator says sorry for crashing Ma's mom's funeral
Democratic Progressive Party (DPP) Legislator Chen Ou-po (陳歐珀) yesterday apologized to President Ma Ying-jeou (馬英九) and his family for showing up at the funeral of Ma's mother, Chin Hou-hsiu (秦厚修), on Monday.
"If my appearance at the funeral caused displeasure to and was a disturbance for the Ma family, I would like to offer my sincere apologies to them and accept the public's criticism of my behavior," Chen said at the Legislative Yuan.
The apology came one day after Hon Hai Technology Group chairman Terry Gou (郭台銘) told a press conference that Chen was a man with a vile character and detestable qualities that made him "worse than a beast." He urged Yilan County voters to recall Chen.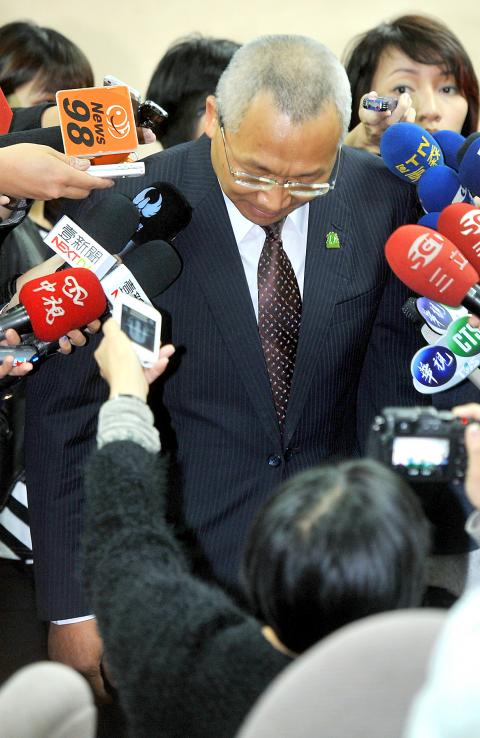 Democratic Progressive Party Legislator Chen Ou-po yesterday apologizes for gatecrashing the private funeral of President Ma Ying-jeou's mother on Monday.
Photo: Liu Hsin-de, Taipei Times
Local media reports said that Chen went to the funeral uninvited and voiced displeasure at the "inadequate" reception he received at the funeral home.
However, the DPP lawmaker insisted that he attended the funeral to honor Chin and denied throwing "a tantrum," adding that the media had blown the incident out of proportion.
"My innocence is clear if you carefully examined the video clip, which shows I did not throw a temper tantrum," Chen said.
Chen said he contacted the Presidential Office's Public Affairs Office and the National Security Bureau before going to the funeral and stressed that he had not intended to offend Ma's family.
DPP spokesperson Lin Chun-hsien (林俊憲) yesterday said that the party had condemned Chen's "inappropriate behavior" and referred him to its legislative caucus to be disciplined.
"We recognize Chen's courage in facing up to and admitting his mistakes, but he will still be disciplined by the party according to our regulations," Lin said.
The DPP caucus is scheduled to discuss Lin's actions tomorrow, Lin said.
Comments will be moderated. Keep comments relevant to the article. Remarks containing abusive and obscene language, personal attacks of any kind or promotion will be removed and the user banned. Final decision will be at the discretion of the Taipei Times.