VP Wu breaches religious protocol at the Vatican
Vice President Wu Den-yih (吳敦義) has been accused of impropriety and ignorant behavior during his recent visit to the Vatican, when he was seen partaking in the Eucharist sacrament, which should only be done by baptized Catholics.
Wu visited the Holy See to attend Sunday's canonization of two popes, John Paul II and John XXIII. The canonization was presided over by Pope Francis, and witnessed by a crowd of 800,000 at St Peter's Square.
However, some have criticized Wu for apparently violating religious protocol.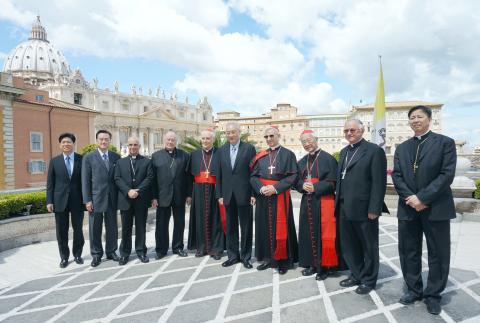 Vice President Wu Den-yih, fifth right, is pictured yesterday with a group of guests that Wu invited for lunch during his visit to the Vatican City.
Photo: CNA
During the canonization ceremony, Wu was reported to have taken and ingested the communion wafer and wine during the Eucharist.
In a letter to the Liberty Times (sister newspaper of the Taipei Times), a reader surnamed Tung (董) criticized the vice president over what he said was Wu's ignorant and imprudent conduct by partaking in the Eucharist.
"Wu is not a Catholic, but during the ritual he ingested the Eucharist offering of bread and wine. This is very improper conduct. His behavior was disrespectful to the diplomatic relationship between Taiwan and the Vatican," Tung wrote.
"In the future, when the president or the vice president attend an important international event, they should put more effort into learning proper protocol and etiquette. This can prevent them from becoming a laughingstock in the international community," Tung said.
The Eucharist, also known as Holy Communion, is a sacred ritual in Christianity, in which unleavened bread pieces and wine represent the body and blood of Jesus Christ.
According to Catholic tradition, only baptized Catholics are permitted to participate in the Eucharist.
A foreign affairs veteran, who declined to be named, said that in the past when government officials visited the Vatican to attend a Catholic Church service, Taiwan's diplomatic representative always gave reminders that non-Catholics must not partake in the Eucharist.
A secretary for Taiwan's Catholic Bishops' Conference confirmed that the Eucharist should be only for Catholics who have undergone baptism by an ordained priest.
"Take this case involving Vice President Wu. It may be that he joined in because others nearby in the diplomatic group were doing so, and nobody reminded Wu about the rules," the secretary, surnamed Liao (廖), said.
"Actually, I think this case was not too serious. Unless Wu had known about the restriction and breached it on purpose, which would be very disrespectful," he said.
A number of netizens criticized Wu over the Eucharist incident.
One person surnamed Lin (林) accused Wu of "lacking understanding of diplomatic protocols," while another netizen wrote: "Wu has shamed himself at the Vatican."
Another posted under the name Chou: "Wu is an ignoramus. This shows that someone with a high education may not have wisdom or common sense."
Comments will be moderated. Keep comments relevant to the article. Remarks containing abusive and obscene language, personal attacks of any kind or promotion will be removed and the user banned. Final decision will be at the discretion of the Taipei Times.