Fund honors 24 mothers for sacrifices
Twenty-four mothers were honored for sacrifices they have made to contribute to their families in a ceremony hosted yesterday by the Taiwan Fund for Children and Families (TFCF) ahead of Mother's Day.
Among the award recipients was 65-year Tien Hsiu-chin (田秀琴), an Amis from the village of A'tolan in Taitung County, who raised her seven grandchildren — the oldest now 20 years old and the youngest a fifth-grader — by herself after her husband passed away 10 years ago.
Tien decided to take care of her grandchildren 15 years ago, saying her daughter and son-in-law were often drunk and abusive toward their children.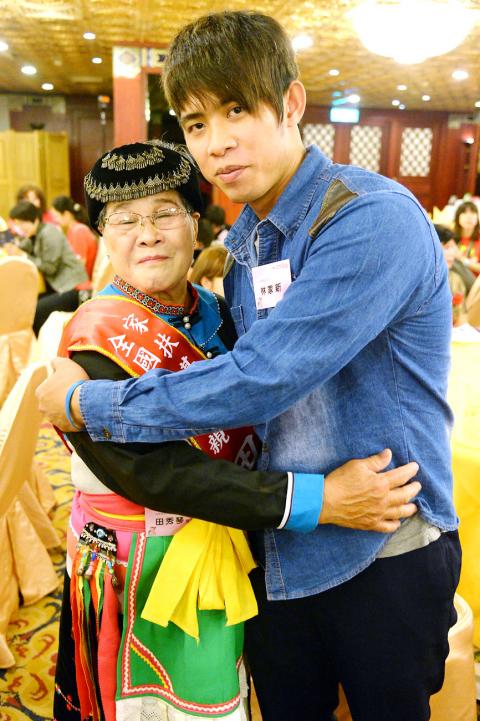 Sixty-five-year-old Tien Hsiu-chin, left, is pictured at a ceremony hosted by the Taiwan Fund for Children and Families in Taipei yesterday.
Photo: CNA
Tien's family is economically disadvantaged and she has to get up early every morning to gather conches or seaweed to sell at a local market.
She spends the rest of the day working as a part-time carpenter, paid by the hour.
In cases where her grandchildren needed money for school, she had to borrow money from her friends and pay them back, she said.
Tien attended the ceremony in full traditional dress.
Asked whether she feels hard done by for having to raise seven grandchildren, she said: "They are all my grandchildren; if I don't take care of them, who will?"
Tien added that it is her responsibility to raise her grandchildren to become upright people.
Huang Ko-yun (黃可妘), another award recipient, is from Vietnam and has been looking after her mentally challenged husband and two physically challenged children by herself for 16 years.
She works as a production line operator in a factory from 8am to 6pm, sleeps for five to six hours after preparing dinner for her children and starts her second job in a tofu factory at 2am.
Although working two jobs, Huang makes just a little more than NT$30,000 a month.
Huang said she never regrets coming to Taiwan and gets satisfaction and takes comfort from seeing her children growing up day-by-day or hearing her children saying: "Thank you, mom."
The fund said that among the 24 mothers honored this year are 11 single mothers, six grandmothers and four foreign spouses.
Although the event is to honor mothers, Wu Chin-an (吳進安), a father from Penghu, was honored for taking care of his elderly parents, paralyzed wife and mentally challenged daughter.
Comments will be moderated. Keep comments relevant to the article. Remarks containing abusive and obscene language, personal attacks of any kind or promotion will be removed and the user banned. Final decision will be at the discretion of the Taipei Times.