Chang group begins video service
LOOKING AHEAD: The foundation celebrated its 45th anniversary by unveiling a statue of Sung Shih-hsuan, who was the foundation's first telephone counselor
The Teacher Chang Foundation, which is known for its telephone counseling service, said yesterday it has launched a video channel on YouTube and would activate a text-messaging account on the popular mobile phone application Line by the end of the year to reach out more young people in need.
It added that it also plans to expand the number of its workers in New Taipei City and Greater Tainan and that starting April 1, its "1980" service hotline became toll-free for calls from landlines and payphones.
The foundation was created 45 years ago by the China Youth Corps, which was established by then-premier Chiang Ching-kuo (蔣經國) in response to rising problems among the nation's teenagers and young people.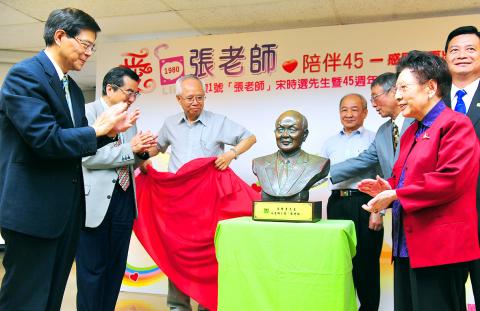 Teacher Chang Foundation leader Chang Te-tsung, left, and other dignitaries unveil a statue of Sung Shih-hsuan in Taipei yesterday. Sung was the foundation's first telephone counselor when the foundation was set up in 1969.
Photo: Chien Jung-fong, Taipei Times
To celebrate the organization's 45th anniversary, the foundation yesterday unveiled a statue of Sung Shih-hsuan (宋時選), who was listed first on the rotation list of the telephone counselors when the foundation was set up in 1969.
Besides telephone counselors, the foundation has also experts in psychology, social work and psychiatric treatment. The foundation has 12 counseling centers nationwide.
According to the foundation, it receives more than 250 calls to its counselling service on a normal day.
In addition to young people, the foundation also handles counseling requests from the general public. It has set up a special service line to help people quit smoking.
Special counseling was also made available to people affected by the 921 Earthquake in 1999 and the disasters caused by Typhoon Morakot in 2009.
Comments will be moderated. Keep comments relevant to the article. Remarks containing abusive and obscene language, personal attacks of any kind or promotion will be removed and the user banned. Final decision will be at the discretion of the Taipei Times.