TRADE PACT SIEGE: Ex-Ma adviser starts pro-Sunflower art campaign
Picked as the symbol of the student-led mobilization against the cross-strait trade service pact, the sunflower is also becoming an emblem around which the nation's artistic and cultural communities can rally to support the protest movement.
Rex How (郝明義), a former national policy adviser to President Ma Ying-jeou (馬英九), has initiated an online campaign called "100 Sunflower Artworks" asking artists to post sunflower-themed pieces on the Web site www.savetaiwan.net.
"Every one of us can contribute something to save Taiwan," How said.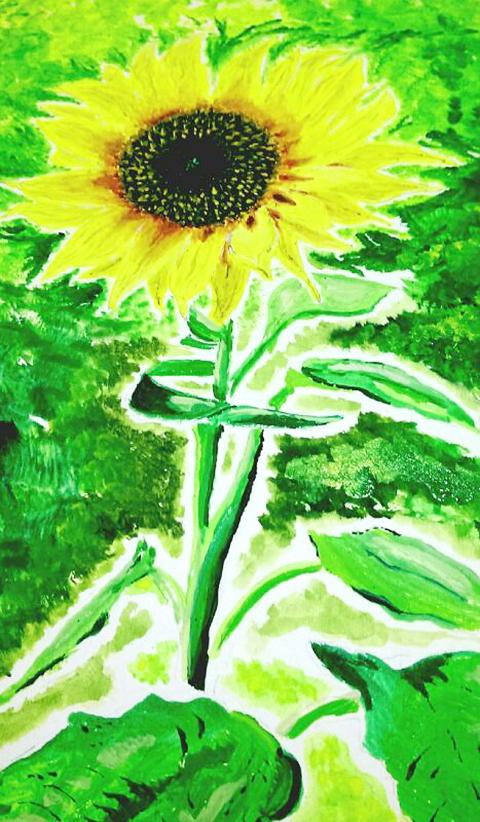 Rex How's 100 Sunflower Artworks campaign displays a painting of a sunflower by Wang Hsiao-ti on www.savetaiwan.net as part of its efforts to support the movement against the cross-strait service trade pact.
Photo: www.savetaiwan.net.
How and some of his friends have invited 100 people from the local artistic and cultural communities to be the first contributors to the Internet campaign.
Their idea is for these 100 individuals to submit their artwork showcasing the protest movement's symbol in any artistic medium, from painting, photography, and graphic design, to sculpture, poetry, or literature, such as poems or essays.
The former Ma adviser said that with the help of his friends and other supporters of the movement, the 100 Sunflower Artworks initiative was successfully launched last night.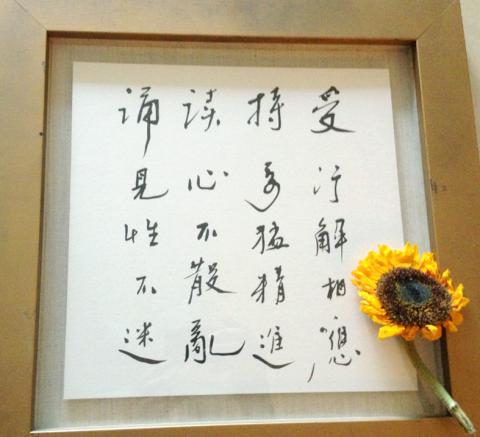 A sunflower stands next to framed calligraphy in Rex How's entry to the online project that he launched to support the Sunflower movement.
Photo: www.savetaiwan.net.
The first person to submit a piece to the Web site was Nieh Yung-chen (聶永真), the graphic designer responsible for creating the student movement's "Democracy at 4am" advertisement that ran in the New York Times.
The ad features a rendering of a sunflower in black felt-tip pen that Nieh drew on the back of his hand.
Nieh was followed by theater director Ko I-chen (柯一正), who submitted a photograph of himself displaying a sunflower drawn on his left palm toward the camera, while clenching his right back into a fist in a defiant stance.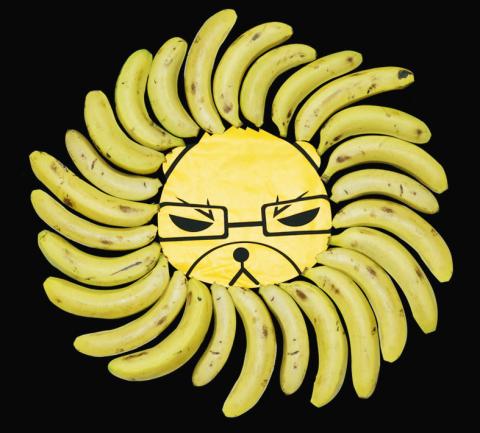 Author and social commentator Lucifer Chu's submission for the 100 Sunflower Art Works project.
Photo: www.savetaiwan.net
"The image means that I have the iron will and determination to defend democracy," Ko said.
Xue Xue Institute founder Lilin Hsu (徐莉玲) contributed a photograph of a wooden deer carving partially concealed by a sunflower.
Author and social commentator Lucifer Chu (朱學恒) submitted an image of angry-looking bear's face ringed by bananas to form the shape of a sunflower, in mockery of former Chinese Nationalist Party (KMT) legislator Chiu Yi (邱毅).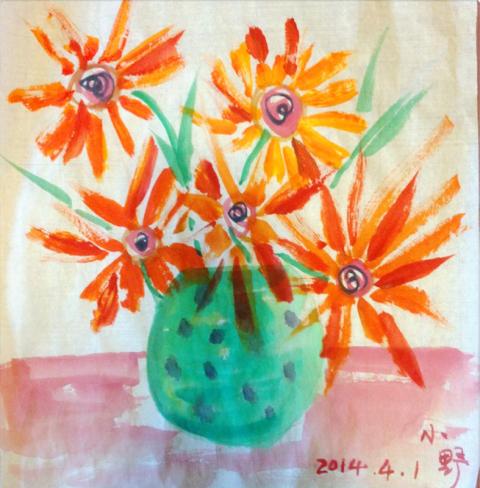 Sunflowers painted orange fill a vase in a painting by Hisao Yeh contributed to the anti-service pact 100 Sunflower Artworks campaign.
Photo: www.savetaiwan.net.
Chiu made himself a target for netizens' derision when, while speaking on a China CCTV program, he pointed to a photograph of the student occupation of the Legislative Yuan in Taipei and said that the sunflowers were actually bananas.
Other personalities who have signed up to produce artwork for the campaign include: award-winning photographer Chang Chao-tang (張照堂), movie director Wang Hsiao-ti (王小棣), art critic Hu Yung-fen (胡永芬), graphic designer Akibo Lee (李明道), avant-garde artist Tsui Kuang-Yu (崔廣宇), former director of the Kaohsiung Museum of Fine Arts Lee Jiun-shyan (李俊賢) and author Hsiao Yeh (小野).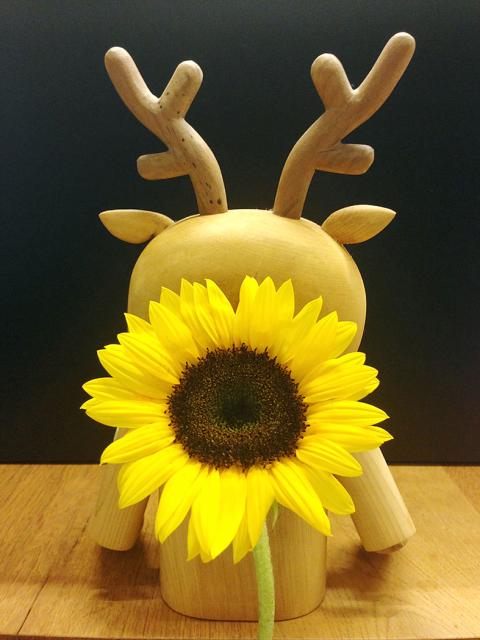 A wooden deer is partly hidden by a sunflower in a piece created by Xue Xue Institute founder Lilin Hsu for 100 Sunflower Artworks.
Photo: www.savetaiwan.net.
Comments will be moderated. Keep comments relevant to the article. Remarks containing abusive and obscene language, personal attacks of any kind or promotion will be removed and the user banned. Final decision will be at the discretion of the Taipei Times.