TRADE PACT SIEGE: KMT says open to making concessions
DEMANDS: The KMT said that it would agree to send the pact back to a joint review committee, but the DPP wants a mechanism to oversee cross-strait pacts set up first
Legislative Speaker Wang Jin-pyng (王金平) yesterday said that he would find a workable proposal to break the deadlock between the government and the student movement over the cross-strait service trade agreement.
After an inter-party negotiation at Wang's residence broke down for the third time yesterday in as many days, Wang called for party caucuses to submit proposals to resolve the controversy.
"The negotiations will continue. If no progress is made and if party caucuses agree, I will try to work out an initiative," Wang said.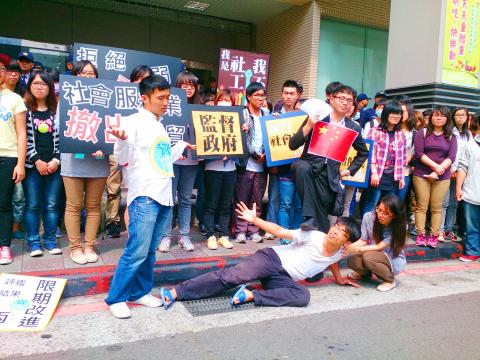 Students from social work departments at schools around the nation protesting against the service trade agreement perform a skit in front of the Ministry of Health and Welfare yesterday.
Photo: CNA
The Chinese Nationalist Party (KMT) and the Democratic Progressive Party (DPP) each set four preconditions for their proposals.
The KMT said it would agree to send the trade pact back to the joint review committee and allow the pact to be reviewed clause-by-clause, but on the condition that the DPP not boycott the proceedings convened by Wang at a location to be decided.
KMT caucus whip Lin Hung-chih (林鴻池) said the party was prepared to make the concession to end the current turmoil as soon as possible.
The DPP rejected the proposal, saying that the KMT's proposal was not in line with mainstream public opinion and that Wang could not convene a committee meeting, under Legislative Yuan regulations.
DPP caucus convener Ker Chien-ming (柯建銘) said the DPP demanded that the pact only be reviewed after the establishment of a monitoring mechanism on cross-strait agreements and with the opportunity to revise the content of the agreement.
The party also asked that no timetable be set for the passage of the pact and that a document request committee be established to investigate the Executive Yuan's order of a police crackdown on students in the Executive Yuan early on Monday morning.
In an earlier cross-party negotiation on Tuesday, Wang reportedly took issue with the KMT caucus' suggestion that he should preside over the review process, complaining to Lin that his party was attempting to shift all the responsibility for resolving the standoff on to the legislative speaker.
"Is it right to ask me to handle all of this?" Wang reportedly asked Lin.
The cross-strait service trade agreement, which was signed June last year between Taiwan and China, has been stuck in the Legislature ever since, amid boycotts and fights among KMT and DPP lawmakers for control of the podium, and more recently has drawn public protests.
Additional reporting by CNA
Comments will be moderated. Keep comments relevant to the article. Remarks containing abusive and obscene language, personal attacks of any kind or promotion will be removed and the user banned. Final decision will be at the discretion of the Taipei Times.