TRADE PACT SIEGE: KMT rejects 'ridiculous' retraction bid
DEALBREAKERS: KMT legislators called the meeting of lawmakers from three opposition parties illegal and ignored its invalidation of earlier legislative actions
A joint committee yesterday passed a resolution that the Executive Yuan should retract the cross-strait service trade agreement and relaunch negotiations with China, while an inter-party negotiation over the review of the deal broke down.
Chinese Nationalist Party (KMT) lawmakers did not attend the meeting called by Democratic Progressive Party (DPP) Legislator Chen Chi-mai (陳其邁) and refused to recognize the resolution.
Lawmakers from the DPP, Taiwan Solidarity Union (TSU) and People First Party (PFP) unanimously invalidated the previous meeting convened by KMT Legislator Chang Ching-chung (張慶忠), who bypassed a substantial review and said the pact would be sent to the legislature's plenary session for a vote.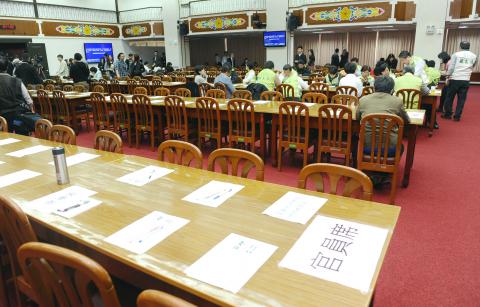 Democratic Progressive Party legislators attend a review session for the cross-strait service trade agreement in the Legislative Yuan in Taipei yesterday. Chinese Nationalist Party (KMT) lawmakers and government officials boycotted the review.
Photo: Chang Chia-ming, Taipei Times
KMT caucus whip Lin Hung-chih (林鴻池) said the meeting was illegal, reiterating that the pact had been sent out of the committee and the party was studying whether the pact could be approved clause-by-clause in the plenary session.
The joint review committee has no right to retract the agreement, Lin said, adding that the resolution was "ridiculous."
As the legislative compound is besieged by thousands of protesters, Lin said that KMT lawmakers decided to boycott the meeting over personal safety concerns.
Chang's alleged violation of procedural justice is reportedly one of the reasons thousands of students have staged an ongoing protest besieging the legislative compound. The students occupied the Executive Yuan on Sunday night, but were removed on Monday morning.
The joint committee meeting yesterday also passed resolutions to condemn President Ma Ying-jeou's (馬英九) administration for using what it called excessive measures to remove the protesters and demanded that the service trade pact not be reviewed before a proposed bill on monitoring cross-strait negotiation is legislated.
To resolve the controversy, Legislative Speaker Wang Jin-pyng (王金平) yesterday convened an inter-party negotiation at his home.
All party caucus whips attended, including DPP caucus whip Ker Chien-ming (柯建銘), who has said the DPP would boycott such talks if the KMT refused to invalidate the meeting convened by Chang and return the pact to the committee.
However, the talks fell apart as Ker said the KMT "has failed to offer room for negotiation" by insisting the agreement stays in the plenary session.
Comments will be moderated. Keep comments relevant to the article. Remarks containing abusive and obscene language, personal attacks of any kind or promotion will be removed and the user banned. Final decision will be at the discretion of the Taipei Times.