LEGISLATIVE SIEGE: Celebrities support, attend occupation of legislature
A number of celebrities have taken to Facebook to express their support for students who occupied the Legislative Yuan in protest against the government's handling of the controversial cross-strait service trade agreement.
Drawing inspirations from the blockbuster Lord of the Rings film trilogy, veteran variety show host Kevin Tsai (蔡康永) posted a message on Facebook on Thursday reading: "The person who owns the ring tends to believe that he is the wisest and most powerful man, and is thus capable of deciding what is good and bad for us, and who should live or die."
"If we ever see someone who puts on the ring in front of us and succumbs to its evil power, we must help him by removing that ring from his finger," Tsai wrote.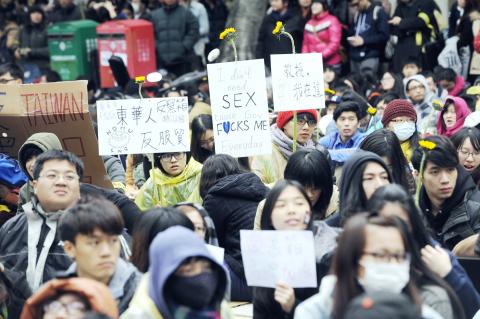 Students opposed to the government's handling of the cross-strait service trade agreement hold up signs as their occupation of the legislative chamber in Taipei entered its third day yesterday.
Photo: Chen Chih-chu, Taipei Times
Tsai's message attracted more than 20,000 "likes" in less than 10 hours.
Meanwhile, singer-songwriter Deserts Chang (張懸), who joined tens of hundreds of protesters outside the legislature on Wednesday as a gesture of support, also posted a message on Facebook dismissing some people's labeling of the students "a bunch of mobsters."
"Some of the students voluntarily cleaned up the podium and asked their peers to remain calm. I did not see any of them engaging in vandalism or resorting to violence against riot police during my visit," Chang said.
Taiwanese actor Lego Lee (李國毅) posted a photograph of himself holding a sign reading "Protesting against injustice" (抗議不公) with a caption reading "20140318" — the date the students started the occupation of the legislature.
Taiwanese actor Chris Wu (吳慷仁) urged more people to join the protesters outside the legislature, saying: "One day, when we look back, we will thank these students for their courage and be proud of ourselves for trying to fight for our country."
Taiwanese actress and model Tiffany Hsu (許瑋甯) expressed discontent over how the government tried to push the treaty through the legislature.
"Honestly, I have absolutely no idea what is in this treaty and I believe many of you feel the same. What the government should do is clarify people's concerns and communicate with them, rather than trying to speed up the legislative review of the agreement," Hsu said.
Additional reporting by Wang Yu-hui
Comments will be moderated. Keep comments relevant to the article. Remarks containing abusive and obscene language, personal attacks of any kind or promotion will be removed and the user banned. Final decision will be at the discretion of the Taipei Times.