Lien rides MRT, denies campaigning
LIKE COMMON PEOPLE: The stunt prompted Hau Lung-bin to say no one was exempt from a ban on MRT campaigning and Ko Wen-je to say it must have been 'painful' for him
Former Taipei EasyCard Corp chairman Sean Lien (連勝文), one of the Chinese Nationalist Party's (KMT) Taipei mayoral hopefuls, yesterday morning raised eyebrows when he took a high-profile ride on the Taipei MRT system in a perceived violation of the ban on campaign activities on MRT trains.
Surrounded by reporters and his close aides, Lien traveled from MRT Tamsui Line's Guandu Station to Luzhou Line's Xingtian Temple Station, about three weeks after he announced his bid to run in the Nov. 29 Taipei mayoral election.
During the 30-minute ride, Lien was seen taking photographs and shaking hands with passengers and giving them his autographs.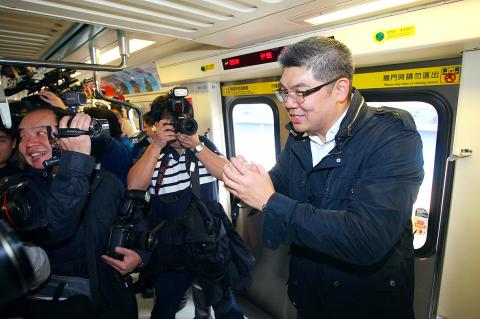 Chinese Nationalist Party (KMT) Central Committee member Sean Lien, who is a candidate for the party's nomination for Taipei mayor, apologizes to commuters on the Taipei MRT system for the crowd of reporters and photographers following him on a trip from Guandu Station to Xingtian Temple Station yesterday.
Photo: CNA
Although Lien opted for either the first or the last carriage of the trains to avoid causing inconvenience to other passengers, some still complained about the trains being "slightly crowded" because of Lien's presence.
However, Lien denied that the ride was a campaign activity, saying: "I did not engage in campaigning of any sort on the trains. I do not think anyone could prove otherwise especially given the fact that I barely spoke during the ride."
Lien said Easycard and the Taipei MRT system were the "pride of Taipei" and that many Southeast Asian countries had asked the city to provide them with technical guidance.
The Taipei mayoral hopeful also proposed four goals for the popular IC public transport pass that he intended to achieve if elected.
"First, I intend to make it possible for Taiwanese Easycard holders to use the smartcard everywhere in Asia; second, I plan to allow cardholders to use the card to make online payments by incorporating it with cloud-computing technology; third, I want to make Easycard an acceptable mobile payment option; fourth, I hope to further expand the use of Easycard to more brick-and-mortar stores, such as night markets," Lien said.
"Although we still need to talk to the Financial Supervisory Commission or the central bank to make these goals possible, at least the Taipei City Government's assistance and full support would allow the Taipei Rapid Transit Corp to do half the work with double results," Lien said.
When approached for comments during a visit to Hsinchu County, Taipei Mayor Hau Lung-bin (郝龍斌), a close acquaintance of Lien, said no one should be exempted from complying with the ban on political campaign activities at MRT stations and trains.
Lien's ride also met with ridicule from his archrival, independent Taipei mayoral hopeful Ko Wen-je (柯文哲), who said: "It must have been painful for Lien to pretend [to be a commoner.]"
"I wonder if Lien has ever rode the Taipei MRT before," Ko said on the sidelines of a religious event in the Taipei World Trade Center's Nangang Exhibition Hall.
Lien's spokesperson, Chin Hui-yuan (秦蕙媛), later counterattacked by issuing a statement on Facebook saying that Lien had traveled on the Taipei MRT more than once and that he also bought a cup of coffee with his Easycard everyday.
"These are the facts, not acts," Chin said.
Chin said Lien had made it his top priority to turn Easycard into a multipurpose smartcard that could be used outside of Taiwan and to make mobile payments.
"Achieving that goal requires not only the Taipei City Government's support, but also the central government's assistance... If the goal becomes a reality, the honor will not be the city government's or Lien's alone, but belongs to each and every Taipei resident," Chin said.
Comments will be moderated. Keep comments relevant to the article. Remarks containing abusive and obscene language, personal attacks of any kind or promotion will be removed and the user banned. Final decision will be at the discretion of the Taipei Times.