Famous Taipei deity to visit Japan
One of old Taipei's most popular deities is going on a historic visit to Japan and he has an important mission — to help find love matches for single Japanese looking to get married.
Known as the "Old Man Under the Moon" (月下老人) or just the "Moon Elder" (月老), the legendary figure said to originate from the Tang Dynasty has been venerated at Taipei's Xia Hai City God Temple (霞海城隍廟) in the Dadaocheng area (大稻埕) since his statue was consecrated at the temple in 1971.
It is the first time the deity is taking a trip overseas, a three-day tour of Okinawa starting on Friday, which is Valentine's Day.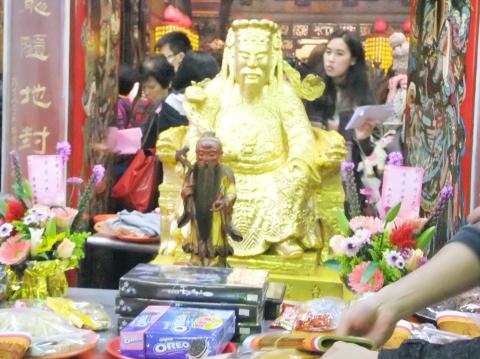 People make offerings to a matchmaking deity known as the "Moon Elder" at the Xia Hai City God Temple in Taipei's Datong District on Saturday.
Photo: Shih Chih-ju, Taipei Times
A delegation from Okinawa visited the City God Temple on Saturday to present an official invitation. Unmarried members of the delegation gave offerings and conducted a ritual, seeking help to find their love matches.
Hsieh Cheng-chun (謝正君), administrator of Taipei's Datong District (大同) where the temple is located, said the deity had agreed to the overseas trip.
"The 'Moon Elder' gave his consent. We did this using the divination ritual of Bua-buei (筊杯) [casting of two crescent-shaped paired wooden divination devices]," Hsieh said. "In the temple, we have several consecrated 'Moon Elder' deity statues. The one going to Japan is a 'horcrux' [a figure with magical powers that contains parts of the deity's soul]. It will be taken aboard the plane as a piece of carry-on luggage by a temple official."
He said the deity would travel to Okinawa so that Japanese single men and women could worship it.
"Taiwanese can still come to our temple on Valentine's Day. We have the 'Moon Elder' main deity figure, who will provide his regular service," Hsieh said.
The visit to Okinawa is a collaboration with the Okinawa Industry Promotion Public Corp, a government agency.
"Activities also include karaoke singing contests, along with the promotion of Taiwanese tea, braised pork rice and other Taiwanese products in Okinawa," he said.
Although the City God Temple on Dihua Street (迪化街) is not big, it attracts large numbers of devotees at weekends and on holidays.
Single people worship the "Moon Elder" in an attempt to find a love match, while those who are married can seek to obtain a "Shoe of Happiness" from the wife of the deity, as many believe that placing the shoe inside a closet at home can ensure a harmonious relationship.
In recent years, increasing numbers of Japanese tourists have visited the temple.
On Saturday, a 26-year-old Japanese visitor with the surname Ishihara said it was his first visit to the temple.
"I wish to find a pretty girlfriend. We heard people can obtain red linen from the 'Moon Elder,' which can help find a person's true love. If my wish comes true and I marry a good woman, then I shall bring my wife to Taiwan for our honeymoon and present offerings to thank the deity," Ishihara said.
Comments will be moderated. Keep comments relevant to the article. Remarks containing abusive and obscene language, personal attacks of any kind or promotion will be removed and the user banned. Final decision will be at the discretion of the Taipei Times.