REPORTER'S NOTEBOOK: Chai, driving force behind Taiwanese independence hopes
Former Democratic Progressive Party (DPP) legislator Chai Trong-rong (蔡同榮), who died early yesterday morning due to multiple organ failure, was a driving force behind the pro-Taiwan Independence movement, making such efforts his life's greatest goal.
Born in 1935 from a family heavily involved in politics in Chiayi County, Chai graduated from National Taiwan University and went on to receive his PhD from the University of Southern California. He later worked as a political science professor at the City University of New York.
His pro-Taiwan Independence stance caused him to be blacklisted by the then-Chinese Nationalist Party (KMT) regime, resulting in Chai being unable to return to Taiwan for more than 20 years.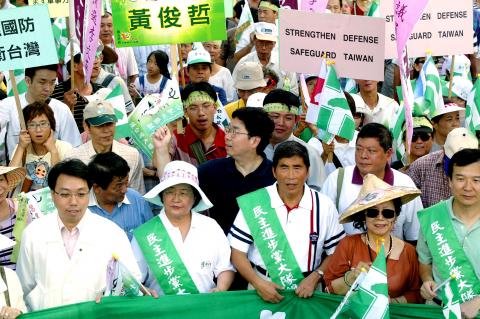 Former Democratic Progressive Party legislator Chai Trong-rong, front row, third right, participates in a demonstration on Sept. 25, 2009. Chai passed away early yesterday morning.
Photo: Lin Cheng-kung, Taipei Times
During his time in the US, Chai worked to spread the idea of Taiwanese independence, becoming the first chairman of the Taiwanese Independence League and the Formosan Association for Public Affairs (FAPA), which he co-founded.
Apart from advocating that Taiwan retain the same allotment of immigrants to the US — 20,000 people — as other countries, Chai drew the US Congress' attention to the state of democracy and human rights in Taiwan and managed to persuade US legislators to support weapons sales to Taiwan.
It could be said that Chai was a major influence behind US legislators' support of Taiwan.
Since his return to Taiwan in 1990, Chai devoted himself to promoting the use of referendums in the legislative decision process on public issues and supported public decisionmaking on issues by which they would be affected.
Chai also founded Taiwan's first local television channel in an effort to break the totalitarian control of the then-KMT government over the media, making Formosa TV a symbol the emergence of free speech and relaxing regulations on TV channels.
Although he drew criticism for founding a TV channel while serving as a member of the DPP's Central Standing Committee — something the DPP had often criticized the KMT for as a way of censoring free speech — most felt that it did not negate his positve actions.
Chai was often seen at pro-localization rallies and activities and was most fervent in his efforts to strengthen Taiwanese identity and attempts to nurture the growth of pro-local individuals.
A solid pro-Taiwan Independence member within the party, Chai had been adamantly opposed to Beijing for its unyielding stance on the use of force to resolve the cross-strait issues. His passing before seeing his efforts come to fruition has greatly saddened many who had fought alongside him in Taiwan's democracy movement.
Translated by staff writer Jake Chung
Comments will be moderated. Keep comments relevant to the article. Remarks containing abusive and obscene language, personal attacks of any kind or promotion will be removed and the user banned. Final decision will be at the discretion of the Taipei Times.