Former soldier silent on his role in hostage drama
President Ma Ying-jeou's (馬英九) nephew, who reportedly helped secure the release of a Taiwanese hostage in the Philippines, will not comment any time soon on his role in the woman's return to Taiwan, his publisher said yesterday.
Gene Yu (余靖) caught the media's attention at a news conference in Taipei on Saturday, when Chang An-wei's (張安薇) brother Chang Ta- kung (張大公) thanked him publicly for his assistance in negotiating with the Abu Sayyaf militant group that kidnapped his sister on Nov. 15. Yu kept a low profile at Saturday's news conference, saying only that he was very happy that Chang An-wei had returned safely.
Business Weekly Publications Inc, which recently released a Chinese edition of Yu's book about his service in the US military, said he does not wish to give any interviews.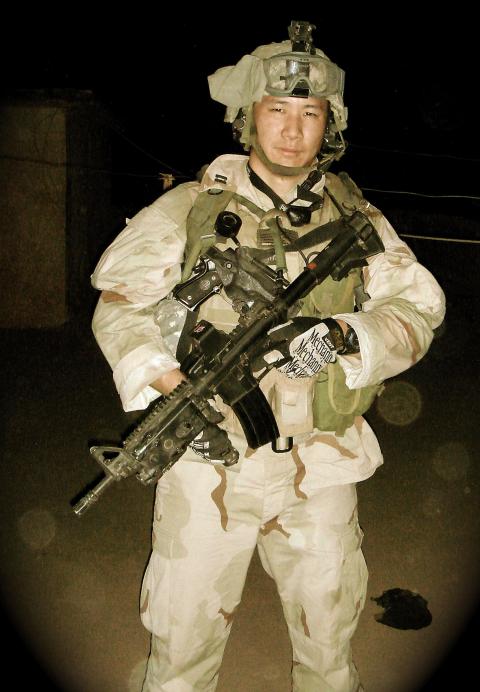 Gene Yu poses dressed in military clothing in an undated photo. Yu was said to be instrumental in securing the release of Taiwanese hostage Chang An-wei from her captors in the Philippines.
Photo provided by Business Weekly Publications
"No comments will be made for the time being," the publisher said, adding that Yu plans to take a break and stay in Taiwan for a while.
Yu, a former commanding officer in the US Army Special Forces, better known as the Green Berets, was in Taipei to promote the Chinese version of his book, Yellow Green Beret, when Chang An-wei was abducted by armed gunmen from a villa on the island of Pom Pom off the eastern Malaysian state of Sabah on Nov. 15 and her companion, Hsu Li-min (許立民), was killed.
After learning that Chang An-wei had been taken to a southern Philippine island, Yu took the initiative to contact Chang's family and offered to help with her rescue, Chang Ta-kung said.
"Yu used his personal connections to help secure the release of my sister," Chang Ta-kung said in an interview with the Central News Agency on Friday.
Yu, 34, was born and grew up in the US. He entered the US Military Academy at West Point at the age of 17.
He graduated shortly after the Sept. 11, 2001, attacks. He was first assigned to the US Army Armored Brigade and served in South Korea. After two years of tough tests, he became a commanding officer in the US Army Special Forces.
In a recent interview with a local TV program, Yu said he was posted to an Okinawa military base after becoming a Green Beret officer.
During his 40 months of service there, he took part in combat missions four times, including one in 2006 that included an attack on an Abu Sayyaf base, a group of Islamic militants, on a remote Philippine island. Chang An-wei was under the group's control when she was held in the Philippine province of Sulu.
Yu said that he had carried out many antiterrorist combat missions in Iraq and the Philippines during his 12-year service in the US military, during which he won two Bronze Stars.
After his retirement from military service, Yu came to Taiwan to study Chinese. During the period, he began to write about his experiences in the US military and posted them on his blog, where they gained a lot of attention.
In 2011, Yu published his work in three volumes under the pen-name Chester Wong.
The Chinese edition of the first volume was launched in Taipei earlier this month.
The Presidential Office would not make any comment on Yu's role in the rescue of Chang An-wei.
Presidential Office deputy spokeswoman Ma Wei-kuo (馬瑋國) said that the president was grateful for Chang An-wei's safe return.
"President Ma was concerned about Chang An-wei's safety and had directed relevant government agencies to deal with the case and ensure her safety," she added.
Comments will be moderated. Keep comments relevant to the article. Remarks containing abusive and obscene language, personal attacks of any kind or promotion will be removed and the user banned. Final decision will be at the discretion of the Taipei Times.