Documentary gives viewers wrong impression, animal shelter staff say
Although Twelve Nights (十 二夜), a recently released documentary on the plight of stray dogs, scored well in the nation's box office, it also generated dismay among some animal shelter workers, who said the film misleads the public about their work.
The documentary was produced by writer Giddens Ko (柯景騰), also known as Jiu Ba-dao (九把刀), and most of the filming took place at an animal shelter in Changhua County's Yuanlin Township (員林).
It purported to reveal the shelter's rundown, poor conditions, as a result of its limited resources. The title of the film refers to the practice of putting stray animals to death if they have not been adopted within 12 days.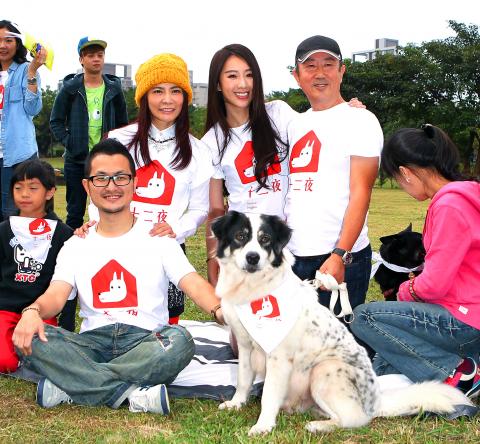 Writer Giddens Ko, front left, producer Angie Chai, second left, actress Sonia Sui, third right, and Sui's father pose for a photograph on Nov. 26 in Taipei at the launch of Twelve Nights, a documentary on the plight of stray dogs.
Photo: Wang Wen-lin, Taipei Times
The New Taipei City (新北市) Government's Agriculture Department earlier this week booked a theater for three consecutive evenings and invited animal control staff under its jurisdiction to watch the documentary.
After the viewing, some staff said that although they supported raising public awareness for stray animals' plight, they felt a number of scenes were badly handled and filmed in a shoddy way.
They felt dismayed after watching the film, and felt they were maligned, and that the public would be misled about their working duties.
One animal control worker said the film depicted shelter employees treating the animals in a rough, and sometimes violent manner, leading the public to question their work.
"We were upset after watching it," said Chen Mei-hsiu (陳美秀), an animal control worker at New Taipei City's Banciao District (板橋) animal shelter for more than five years. "Most shelter workers have kind hearts and take good care of the stray animals. We are being vilified in this film."
"The film is made in a haphazard way. Much of it was not based on real situations. It has given the public the wrong impression about animal control workers," said Huang Yu-hsiang (黃榆翔), a 20-year veteran worker at a shelter center in Zhonghe District (中和).
Chang Li-chen (張麗珍), deputy director of New Taipei City's Animal Protection and Health Inspection Office, said that most animals under her department's care remain at the shelter for more than 30 days, and public adoption is actively encouraged.
"One of our officers asked me if our office can make a documentary entitled, '30 Nights,' to respond to this film," she said.
"Films always try to have a visual impact to entice viewers. However, this one strays too far from reality. It is very unfair to the staff who take good care of the animals," she said.
In response, Ko said the documentary's director had applied to film at a number of animal shelters, but most of them refused or demanded the producer to sign an agreement to allow the shelters to check and review the film before release.
"We also applied to New Taipei City for permission to film, but we were refused," Ko said. "I sincerely hope the conditions in New Taipei City's shelters are much better than at the one shown in the film."
He said the documentary is not meant as an attack on animal shelters, adding that "the supervisors and veterinarian Hung (洪) at the Yuanlin animal shelter also hope to improve the conditions, that's why they agreed to allow us to film there."
"Animal shelters are helping to solve a difficult problem that our society has long neglected. They are not the documentary's target of criticism," he said. "Our criticism is aimed at the people who have created this problem: The pet owners who abandoned these animals."
Comments will be moderated. Keep comments relevant to the article. Remarks containing abusive and obscene language, personal attacks of any kind or promotion will be removed and the user banned. Final decision will be at the discretion of the Taipei Times.