Siew seeks to raise Taiwan's US profile
MAN ON A MISSION: Siew has led a major delegation of Taiwan business leaders to the US intent on securing support for Taiwan's membership in the Trans-Pacific Partnership
Former vice president Vincent Siew (蕭萬長) told a packed audience at the Brookings Institution in Washington on Wednesday that the fundamental purpose of his current visit to the US was to "bring Taiwan back to Washington's attention."
"To say that Taiwan has been the staunchest ally of the US in East Asia is an understatement," he said.
However, he questioned whether the US still "cherished" its "loyal and faithful friend."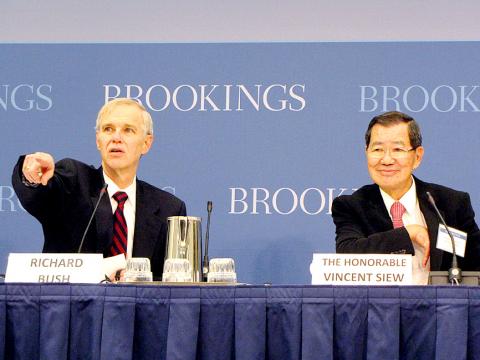 Former vice president Vincent Siew, right, takes questions after his keynote speech at the Brookings Institution in Washington on Wednesday.
Photo: Nadia Tsao, Taipei Times
Siew is heading a large delegation of Taiwanese business leaders on a lobbying mission to persuade the US to support Taiwan's membership in the Trans-Pacific Partnership (TPP) trade negotiations.
He said that doubts about the US' commitment to Taipei had emerged as the US had slipped behind China and Japan in importance as a major trading partner.
"I must ask frankly, does the US care about the state of affairs in US-Taiwan relations?" he asked.
Taiwan cares "gravely" about its links with the US, he said.
"Our goal is simple, but significant: We wish to rekindle economic relations by demonstrating our long standing dedication and ties to the US," he said.
Siew said he wanted to "ensure" Taiwan's inclusion in Washington's policy debates at a time when the nation was facing "very difficult economic and strategic challenges."
Taiwan was being "economically marginalized" by being excluded from major trade agreements in Asia, he said.
Shortly before Siew's keynote address at a half-day conference titled "Taiwan and the Trans-Pacific Partnership: Issues and Opportunities," US National Security Adviser Susan Rice delivered a major address at Georgetown University in Washington on "America's Future in Asia."
And as if to support Siew's contention that Taiwan was being neglected, she mentioned it only once and then just as a passing reference.
Siew said that the Economic Cooperation Framework Agreement had opened the "enormous" Chinese market to Taiwan.
However, without access to other trade agreements, Taiwan's external trade and other economic relations had become highly dependent on China, were "unbalanced" and this had led to diminishing ties with the rest of the world, he said.
"I suggest this trend runs very much counter to US interests in Asia," he said. "Taiwan's marginalization undermines people's confidence in our long-term economic prospects and discourages foreign and direct investment in Taiwan."
If Washington really wanted Taiwan to play a meaningful role in the US "pivot" toward Asia, "it makes perfect sense" to incorporate Taiwan into the TPP because the pact forms the economic center of the rebalancing strategy, Siew said.
"Taiwan's economy is facing a particularly challenging period of transition," he said.
Only by liberalizing its markets and renewing economic confidence could Taiwan attract the investment critical to long-term economic competitiveness.
Taiwan was a highly favorable access point for companies and major trading partners to tap into China's market, he said, adding that this would mean that US companies would gain from Taiwan's membership in the TPP.
At the same time, by including Taiwan in TPP the US would be lending "a helping hand to a friend at a crucial juncture in our economic development," he said.
Incorporating Taiwan into the pact would have the additional benefit of "rejuvenating the strong economic linkage between the US and Taiwan, and enabling Taiwan to maintain a meaningful range of policies in its foreign relations, which have strategic implications for Washington," he said.
Some in the US held an "ambivalent" attitude toward Taiwan's pursuit of TPP membership, he said.
"They observe that Taiwan 'talks the talk' but fails to 'walk the walk,'" he said.
By incorporating Taiwan into the TPP and further removing trade barriers, the importance of Taiwan's market to US producers and exporters was certain to increase, he said.
"This is especially true given Taiwan's institutional affinity toward the US and our cultural affinity toward mainland China," he added.
He said it would make Taiwan "an ideal springboard" into China's market for US companies, adding that the TPP would open up Taiwan's markets and allow Taiwan to serve as an effective gateway to the rest of Asia and beyond.
"We hope the US will help Taiwan to join the TPP negotiations and we also hope that the US can invite China to participate," he said.
Siew said Taiwan would have to do its own part. One high priority task would be to forge a domestic consensus on the overall direction of long-term cross-strait economic relations, he said.
"Deep mistrust between Taiwan's ruling and opposition parties has sometimes resulted in the gridlock of debate about a prosperous cross-strait economic relationship, but in fact, the two parties have more in common than most people think," Siew said.
"Both want Taiwan's economy to prosper and neither wants Taiwan's freedom of choice to shrink," he said.
This common ground should help form a domestic consensus and develop principles for guiding Taiwan's long-term strategy and objectives in cross-strait economic relations, he said.
The Chinese Nationalist Party (KMT) and the Democratic Progressive Party should cooperate to build a consensus to defuse tensions over cross-strait policies, he said.
"US support of Taiwan's participation in the TPP is the first step in rejuvenating the US-Taiwan partnership," he said. "It is time for Washington to act."
Comments will be moderated. Keep comments relevant to the article. Remarks containing abusive and obscene language, personal attacks of any kind or promotion will be removed and the user banned. Final decision will be at the discretion of the Taipei Times.