Man commits suicide after land grab
The family of an elderly farmer who committed suicide last weekend by consuming herbicide to protest government expropriation of his land on Tuesday publicly denounced the Taoyuan Aerotropolis project and called for an end to forced expropriation of private land.
Lu A-yun (呂阿雲), 83, killed himself by drinking highly toxic herbicide on Saturday. His body was found by relatives when they came home after participating in a protest rally against forced land appropriation for the government-initiated NT$463 billion (US$15.8 billion) aerotropolis project.
The farmer owned property and farmland in Kuolin Village (菓林) in Taoyuan County's Dayuan Township (大園), close to Taiwan Taoyuan International Airport, the nation's most important air transport hub.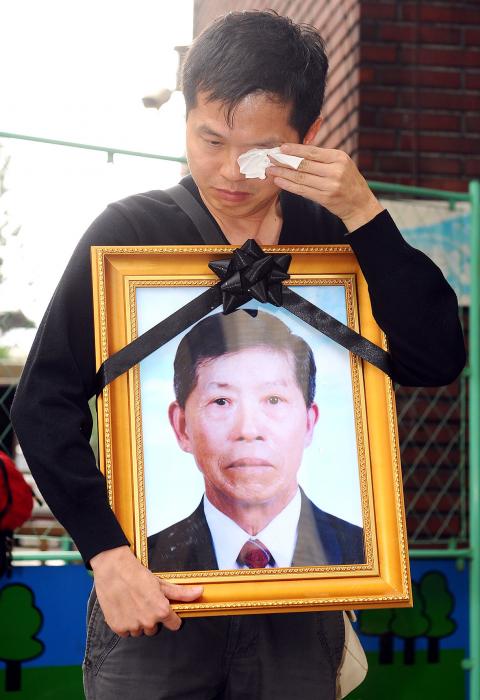 Lu Wen-chung, son of late Taoyuan farmer Lu A-yun, holds a portrait of his father in front of the Ministry of the Interior's Construction and Planning Agency on Tuesday, saying that his father killed himself due to a farmland expropriation case.
Photo: Chang Chia-ming, Taipei Times
Carrying a portrait of the deceased farmer, the family went to the Ministry of the Interior's Construction and Planning Agency building in Taipei on Tuesday to express their grievance, saying that Lu's death was the direct result of the government project.
"Our family's property, farmland and our ancestors' cemetery plots were all expropriated by the government. Our father committed suicide because he felt ashamed toward our ancestors for not being able to protect the family inheritance," said one of Lu's sons, Lu Wen-chung (呂文忠).
The core region of the Taoyuan Aerotropolis project covers an area of 6,859 hectares, of which 3,073 hectares needed to be expropriated from private land owners.
Under the project's construction plan, 31 households in the area would have to make way for a 60m wide access road and a park.
Lu Wen-chung, a professor at the Taipei National University of the Arts, said the family were originally agreeable toward the government's proposal to exchange the family's agricultural land for land suitable for construction use.
"However, we never wanted to sell our family land," he said. "Later we were surprised when the government's new plan was tabled. In return, our family got our ancestors' burial plots."
Lu Wen-chung said his father felt that his whole life's work had gone up in flames.
"He was distressed that his family had to move to the cemetery plots," he said.
Wu Chi-ming (吳啟民), head of Taoyuan County's Urban and Rural Development Bureau, said he regretted what had happened.
He admitted the project's planning may have some oversights such as the delineation of cemetery plots into residential development zones.
"Future land allocation to original land owners will be done by drawing lots. The Taoyuan Government will also provide its opinions to the Ministry of the Interior to modify certain aspects of the aerotropolis project," Wu said.
Additional reporting by Cheng Su-ting, staff reporter.
Comments will be moderated. Keep comments relevant to the article. Remarks containing abusive and obscene language, personal attacks of any kind or promotion will be removed and the user banned. Final decision will be at the discretion of the Taipei Times.