Another oil maker caught adulterating
PURE LIES: The FDA said it will fine the Formosa Oilseed Processing Co NT$15m for blending inferior oils into olive oil it marketed as 'pure' and 'imported' from the EU
A food company has been caught adulterating olive oil it claimed was pure and imported from Europe with substandard oil from Chang Chi Foodstuff Factory Co, the Food and Drug Administration (FDA) said in its latest report on edible oils.
Of the 76 oil products listed by the administration on Thursday as suspected of being substandard because their fatty acid composition did not meet national standards for edible oils, 24 have passed inspection and 40 confirmed as doctored so far, according to the report.
There are still 11 items pending further examination, while the manufacturer of the remaining product under investigation has been referred to the administration's prosecution and investigation unit to determine the veracity of its claim that it has no more raw samples of its pure coconut oil left to submit for assessment.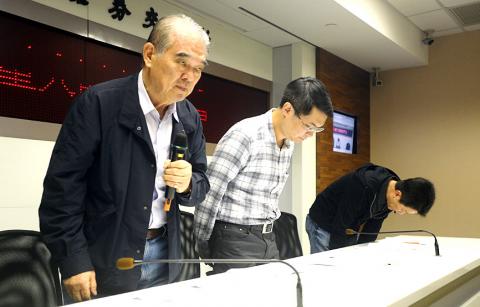 Formosa Oilseed Processing Co general manager Hsu Chung-ming, left, apologizes to consumers at a press conference in Taipei yesterday after admitting that his company adulterated its oil products to save money.
Photo: Lin Cheng-kung, Taipei Times
Seven of the 40 substandard oil products were named yesterday, and six of those seven were olive oils from Greater Taichung-based Formosa Oilseed Processing Co that were being marketed as imports from Italy or Spain.
"The products are all labeled as 'olive oil' without specifying that they are mixed with other kinds of oil. The inspection showed that they are all adulterated with either sunflower seed oil, salad oil or canola oil," said Chen Shu-hui (陳淑惠), an official with the Greater Taichung Health Bureau.
Two of Formosa Oilseed's six adulterated olive oils are 50 percent Chang-chi oil and 50 percent canola oil, according to Chen.
"The other four do contain some olive oil from Italy or Spain, but they are still not 100 percent olive oil since they are blended with sunflower seed oil and salad oil," she said.
The company is to be fined at least NT$15 million (US$510,000) for the six oil products and its "dishonesty when questioned by the authority," Chen added.
"A NT$2 million fine will be levied for each of the adulterated oil products," bureau Director Huang Mei-na (黃美娜) said, adding that a NT$3 million penalty is to be imposed for Formosa Oilseed's dishonesty and unwillingness to cooperate with inspection staff.
Comments will be moderated. Keep comments relevant to the article. Remarks containing abusive and obscene language, personal attacks of any kind or promotion will be removed and the user banned. Final decision will be at the discretion of the Taipei Times.